Author David Mitchell talks to Nadine O'Regan at Cúirt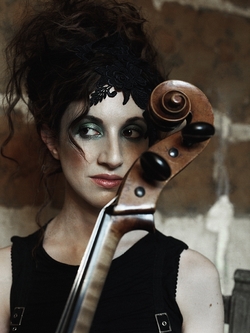 ... where we also hear from writers from the US - Amy Bloom - and Galicia - Manuel Rivas. Singing cellist Laura Moody (pictured right) performs in studio in advance of her gig at the Grand Social on 8 May and we show a clip from Wily Kataso, a track from the current album, Folila, by Amadou and Mariam.
Author Laurent Binet talks to the Works about HHhH, his controversial novel about the real-life attempted assassination of senior Nazi Reinhard Heydrich, 'the hangman of Prague', in 1942 London.
And in the second instalment of the Ireland's Favourite Painting Top Ten, hear Joe Duffy on Communicating with Prisoners by Jack Yeats and Adi Roche on A Family by Louis Le Brocquy.
11.10pm, 3 May 2012, RTÉ One