Choice award nominee Lisa Hannigan performs in studio ...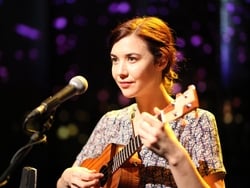 Choice Music nominee Lisa Hannigan performs her song Knots in studio, one week before the awards are announced. John Kelly interviews Shalom Auslander, author of Hope: A Tragedy, and Declan Donnellan and Nick Ormerod, directors of the film, Bel Ami, starring Robert Pattinson, Christina Ricci and Uma Thurman.
Kevin Gildea meets artist Brian Maguire to discuss his new paintings and we preview an Edible exhibition at the Science Gallery, Dublin until 5th April.