The Works Presents... Philip Glass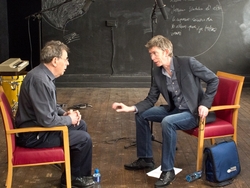 11.15pm, Thursday 15th Oct, RTÉ One
The Works Presents is a new 10-part series in which John Kelly meets key figures from the worlds of film and TV, books, music, theatre and the visual arts.
Philip Glass is one of the world's greatest composers - and certainly one of the dominant influences on the sound of the late 20th century and well into this one.
Born in Baltimore Maryland in 1937, he grew up in a secular Jewish family, his mother was a teacher and his father ran a record store. After studying in Chicago, New York and Paris Glass developed a style which was to change the face of modern music - and with the success of operas such as Einstein on the Beach in 1976, he cemented his place as cultural force much in demand around the world.
Philip Glass has also scored movies for directors such as Woody Allen and Martin Scorsese. And the list of his many collaborators include Samuel Beckett, Paul Simon, David Bowie, Brian Eno, Ravi Shankar and Leonard Cohen.

Now 78, he is as prolific as ever. Earlier this year, he published his memoir, Works Without Music, with Faber & Faber.
Coming up... 22nd Oct, artist Sean Scully; 29th Oct, novelist Kevin Barry; 5th Nov actor Gabriel Byrne; 12th Nov musician Elvis Costello; 19th Nov novelist Jennifer Johnston; 26th Nov performance artist Marina Abramovic.