We're back on air on 26th September...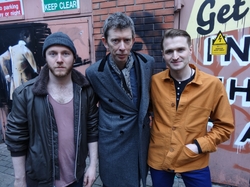 8.30pm, Friday 18th April, RTÉ One
Music
In our last show this season, The Wild Beasts (pictured with a new band member) play their current single, A Simple Beautiful Truth, and tell John Kelly about the album Present Tense. www.wild-beasts.co.uk
DFF is a seven-piece, Dublin-based band featuring cellist and vocalist Vyvienne Long, Congolese guitarist Niwel Tsumbu and singer/songwriter Dave Flynn. Tonight they play the track, Mad For You, from the album, Pouric Songs. www.dffmusic.com
Books
Sinéad Gleeson reports from Cúirt International Festival of Literature, Galway where she interviewed the writers Eleanor Catton, Eimear McBride and Rachel Kushner. Eleanor Catton won last year's Man Booker Prize for The Luminaries, a murder mystery during the goldrush of late 18th-century New Zealand.
Eimear McBride's novel, A Girl Is A Half-Formed Thing, is the story of an Irish girl growing up in the shadow of a seriously ill brother. It won the inaugural Goldsmiths Prize 2013 and is shortlisted for the 2014 Baileys women's prize for fiction. Rachel Kushner is author of The Flamethrowers, a tale linking the 1970s New York art scene with radical politics in Italy at the time, and a New York Times bestseller in 2013. www.cuirt.ie
Art
Laurence Mackin, Irish Times Arts Editor, meets artist Clea van der Grijn whose exhibition CONFLICT (Ambivalence) is on at the Ballina Arts Centre. www.cleavandergrijn.com / www.ballinaartscentre.com
And we went to see The Art of the Brick, at the Ambassador Event Centre, Dublin, 70 large-scale art Lego sculptures by US artist Nathan Sawaya. www.brickartist.com / www.ambassadordublin.com
Film
All kinds of film - animation, documentary, features and shorts - turn up at the annual Darklight Festival of Independent Creativity which runs in Smithfield, Dublin from 24th to 27th April. John Kelly meets Lenny Abramson, board member and film director, to find out about this year's programme. www.darklight.ie