The Works Presents... Marina Abramovic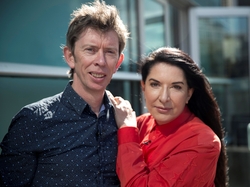 11.15pm, Thursday 26th Nov, RTÉ One
In The Works Presents, John Kelly meets key figures from the worlds of film and TV, books, music, theatre and the visual arts.
In the final programme in 2015, John meets performance artist Marina Abramovic at her home in New York.
Abramovic was born in 1946 in Belgrade, former Yugoslavia, the daughter of Communist partisans and national heroes. She would go on to forge her own uncompromising cause in art - first in her Communist hometown, then in Amsterdam in the 1970s, and finally in New York.
Now a star in the international art world and beyond, the public queued around the block to sit with her in the phenomenal exhibition The Artist is Present at The Museum of Modern Art (MOMA) in 2010, actor James Franco is a fan, and Lady Gaga claims Abramovic as a mentor.

The Works Presents... returns in Jan 2016 - watch this space!