Thursday 11th April, 11.05pm, RTE 1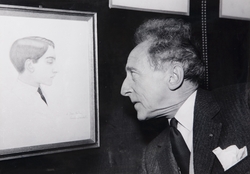 This 1965 portrait of writer Jean Cocteau is one of 79 photographs of artists including Pablo Picasso, Yoko Ono and John Lennon currently in exhibition at the Lewis Glucksman Gallery, Cork. Cristín Leach-Hughes talks to director and co-curator Fiona Kearney about The Artist's Eye.
Carrie Crowley and Kevin Gildea review The Infatuations, a novel of love and obsession by Javier Marias. María Dolz, uninspired editor in a Madrid publishing house, sees the same glamorous, happy couple in the café where she has breakfast every morning before work. Then one day they don't show up and María's mild fascination with strangers begins to put her own life in danger.
Pat McCabe tells The Works about his new play, The Bridge Below The Town, set in 1950s small-town Ireland, touring this month to Virginia, Co. Cavan, Longford, Monaghan, Drogheda and Roscommon and produced by Livin' Dred Theatre Company.
Two divided countries are conjured up in Jesse Jones's film, The Other North, at the Centre for Contemporary Art, Derry until 5th May, an excerpt of which is on tonight's programme. Eleven Korean actors re-enact the lines that originally came from a group of Northern Irish people who took part in conflict resolution therapy sessions held by US psychologist and subsequently documented in the 1974 film, The Steel Shutter.
Charlie is The Gamal, a nickname he earned for a lifelong habit of apparently strange behaviour. He's also the reluctant narrator of a story of adolescent friendship that seems to have gone horribly wrong. John Kelly interviews his creator, debut author Ciarán Collins.
Credit: Image used in the Javier Marias book review is Being for the Benefit of Mr. Kite! by Jennifer Farley courtesy of The Copper House Gallery, Dublin. www.thecopperhousegallery.com