8.30pm, Friday, 19th December, RTÉ One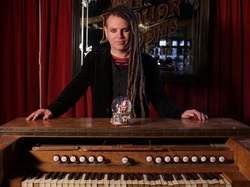 Sports writing
Paul Galvin, Brian O'Driscoll, Roy Keane, Anthony Daly, it's been a big year for sporting non-fiction. Second Captains' Eoin McDevitt and Adrian Russell of www.thescore.ie choose their highlights from the current crop, with a look back at some of their favourites of all time.

Festive song
Duke Special (pictured) plays his Christmas song of choice, It's Clichéd to be Cynical about Christmas, by Half Man Half Biscuit. On national tour from 15th January to 28th February, Duke releases his new album Look Out Machines! on 27 March. www.dukespecial.com
Fillums of the year
Journalists Eithne Shortall and Mike Sheridan join John Kelly to discuss the best and worst films of 2014.
Art for sale
Two wannabe collectors make their first big buys and tell us why they took the plunge.
The Works recommends...
Comedian Al Porter gives us his take on what's on round the country over Christmas. www.alan-porter.com