The Works Presents... Iarla Ó Lionáird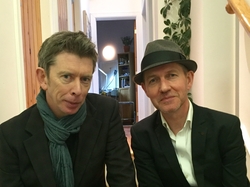 11.15pm, Thursday 25th Feb, RTÉ One
This season, The Works Presents five of Ireland's most inventive creative figures. Their work questions society, politics and accepted ideas or takes arts practices into exciting, new territory.
This week, John Kelly meets Irish singer Iarla Ó Lionaird. Born in Cúl Aodha, Co. Cork, Iarla was born into an Irish-speaking family steeped in the Irish singing tradition. He began recording in Ireland, and even as a young boy, established himself as one of the foremost exponents of sean nós in the country. In the mid-90s, he was signed to Peter Gabriel's Realworld label, and went on to front the ground-breaking world music collective, The Afro Celt Sound System.
He has continually pushed the barriers of his craft, collaborating with musicians from every conceivable musical background, and some of the world's best known performers, including Nick Cave, Sinead O'Connor and Peter Gabriel. He has performed in some of the world's most prestigious venues including New York's Carnegie Hall and Sydney's Opera House. His work has also featured in films such as Calvary and, most recently, Brooklyn.
He is a founder member of seminal trad ensemble The Gloaming, whose ever-innovative interpretations of traditional Irish airs have garnered rave reviews from critics and audiences across the globe. The Gloaming's much anticipated second album will be released this Spring.
Coming up: artist Brian Maguire - 11th Feb; and theatre director Louise Lowe - 18th Feb.