8.30pm, Friday, 31st October, RTÉ One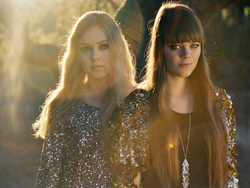 Film: Mike Leigh
John Kelly talks to Mike Leigh about Mr. Turner, a film he has wanted to make since the 1990s. It stars Timothy Spall as J.M.W. Turner, one of the great English landscape artists of the 19th century, a role for which Spall won Best Actor at Cannes this year and for which he is expected to be an Oscar contender in early 2015.
Music: First Aid Kit
The Works meets Swedish sister act First Aid Kit (pictured) and finds out about life since their 2008 breakout success online and the evolution of their sound in their latest album release, Stay Gold. www.thisisfirstaidkit.com
Novel: Mary Costello
Academy Street is the debut novel by author Mary Costello, whose 2012 short story collection, The China Factory, marked her out as a strong new voice in Irish writing. Tonight, she tells Sinéad Gleeson about the inspiration behind Academy Street, a story of Irish emigration, loss and endurance from the 1940s to the present day.
App: Chris Judge
A behind-the-scenes look at the process of adapting a children's literature series into a successful learning app in the company of Chris Judge, author and illustrator of The Lonely Beast series. www.chrisjudge.com

Photography: World Press Photo 2014
Now on in the chq building, Dublin until Saturday 15th November, the World Press Photo exhibition is the annual showcase of the best in photojournalism from around the globe. www.worldpressphoto.ie
Competition: Cork Film Festival
Follow us on Twitter (@RTETheWorks and @rte) for this week's competition, two tickets to the Gala Opening Night at the Cork Film Festival on Friday 7th November and an overnight stay in the Clarion Hotel, Cork. www.corkfilmfestival.org