Meet the Teens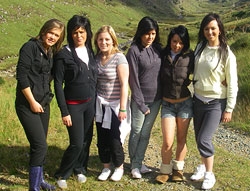 The girls
Lisa
Lisa (14) often goes missing, has dropped out of school and her parents worry for her safety. Sometime ago Lisa was the victim of a serious physical assault which her parents feel has affected her behaviour.
Aisling
Aisling (17) has battled with anorexia in the past. Her parents worry that she has no focus and suffers from low self esteem.
Aine
Aine (15) often goes missing without leaving any clue as to her whereabouts which is a constant worry for her mum.
Emer
Emer (14) gets into trouble at school and seems to take no guidance from her single dad which leads to frequent arguments at home.
Amy
Amy (16) misses a lot of school, finds it difficult to keep a lid on her anger and can be both physically and verbally abusive.
Niamh
Niamh (16) is not in school, is verbally and physically abusive at home and her mum lives in fear of where she will end up.