Reluctant Pilgrim
Bláthnaid Ní Chofaigh has been our 'Reluctant Pilgrim' during this series of the Spirit Level and it has been quite a journey. She has traversed the country to explore the spiritual pilgrimages and experiences of our various faiths.
Bláthnaid has climbed mountains and crossed lakes. She has fasted for Ramadan, meditated in the early hours, prayed all night and maybe most difficult of all, stayed quiet in a silent retreat. Bláthnaid really has done it all in her exploration of spiritual retreats in Ireland today. The details of her spiritual journey are below so maybe you too can retrace the steps of our Reluctant Pilgrim.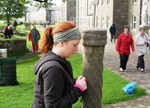 Lough Derg has been an Irish tradition since the 6th century. The small island offers no physicals comforts or distractions and maintains a pace where people have to move more slowly. If you are seeking an opportunity for calm, renewal or growth, then this ancient sanctuary of St. Patrick might be for you. http://www.loughderg.org/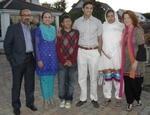 Ramadan - 45,000 Muslims now live in Ireland. While Bláthnaid couldn't make the pilgrimage to Mecca, she did visit the Naqvi family in Galway to experience a few days of their annual month of fasting, Ramadan. For more information - http://www.islaminireland.com/

In Holy Hill Hermitage, in the beautiful Ox Mountains of Sligo, Bláthnaid tried to find out whether cutting out the noise on a silent retreat brought her any peace. Find out more about Holy Hill from their website: www.holyhill.ie
The Hare Krishnas in Ireland have their home on Inis Rath in Co. Fermanagh. Bláthnaid went there for a meditative island retreat. www.lakeisleretreats.com
Bláthnaid faced some rather more austere living conditions during her pilgrimages and retreats. In the week before Christmas, she tagged along with the Simon Community and Focus Ireland to see how homeless people deal with the harsh living conditions that come with living on the street.
Croagh Patrick is maybe Ireland's most famous mountain. Every year one million visitors make the trek up County Mayo's third highest mountain to pray and do penance at the stations of the cross and, if they're lucky, enjoy one of the country's finest views, over Clew Bay. Click here for more information.
Buddhism has been around since before the birth of Jesus so Bláthnaid went to the Jampa Ling Buddhist retreat in Co. Cavan to see if it could bring her closer to enlightenment. http://www.jampaling.org/
Although well known as one of Ireland's premier tourist spots, Glendalough is also home to a hermitage which holds spiritual retreats. Bláthnaid's time in Co. Wicklow turned out to surprisngly emotional. http://www.hermitage.dublindiocese.ie/
Finally, Blathnaid was in Faughart, Co Louth, the birth place of Ireland's most famous female Saint. For details of Brathbride, a festival celebrating the life of St Brigid go to: http://www.bratbhride.com/
RTÉ is not responsible for the content of external websites.