Joe Duffy presents a live and lively show, exploring spiritual and ethical issues in today's Ireland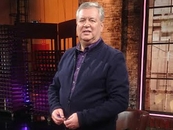 Joe Duffy loves to cook and to entertain so from September 27th to November 1st he is inviting everyone in Ireland over to his place for lunch on RTÉ One. With a selection of interesting alternative recipes to the traditional Sunday roast and with the help of guest chefs this seasons programmes will be packed with lots of new ideas of what to serve up for lunch. As well as making good food there lively discussion exploring the spiritual and ethical issues affecting us all. With guest invited over specifically from differing perspectives and with strong opinions – like all good get togethers the programme will be lively. We will be meeting people who have alternative ways of living and perspectives and there will also be music for every taste. Joe Duffy's Spirit Level will have a refreshed daytime magazine style format. It will be inclusive of the wide audience Joe attracts – this programme will have something for everyone.
Make a date on your couch every Sunday, to join Joe Duffy for lively discussion exploring the spiritual and ethical issues affecting us all – these debates will be served up with delicious food and beautiful music.
Programme 6 - - All Saints & All Souls Day TX Nov 1st 1.10pm RTÉ One

The Theme of the Programme.
This week's edition of Joe Duffy's Spirit Level falls during the Halloween weekend and in keeping with the festivities Joe and his guests discuss Samhain and our ancient traditions. In particular our regard for our ancestors and how we honour them.

Saints were radical individuals who suffered for their beliefs and people revered them because they were human beings and not mythical figures. Joe talks to Former President Mary McAleese's about St Columbanus and ask her what was it about this particular saint that motivated her to get involved in the documentary she help make about him.

Guest Chef Susan Jane White makes a sinful but Saintly Celebratory Cake an adaptation from her book – The Virtuous Tart with a new twist on our traditional Barn Brack.

Declan O'Rourke chats to Joe about his recent marriage and performs a song that he composed with personal significance to him called 'Be Brave and Believe'.