Joe Duffy presents a live and lively show, exploring spiritual and ethical issues in today's Ireland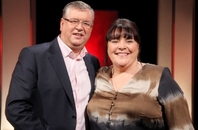 The current series of the Spirit Level has now finished but you can see all the details of Bláthnaid's spiritual adventures in Reluctant Pilgrim here.
Thanks for all your texts, calls, letters and emails and also sincere thanks to all the guests who came on the show to join in our spiritual debate.


On December 19th we spoke to Jane Donald about her book Sacred Messages from Sacred Ireland.
The book is available from www.kennys.ie with FREE postage worldwide and for shop availability check www.janedonaldloveandlight.com
We had a very strong response to Rose Callaly's moving interview on our programme. Many people wanted to get hold of the poem which, she told Joe, has helped sustain her and her faith, despite the dreadful grief of losing her two daughters, Rachel and Anne. Here it is:

LIFE'S WEAVING - anonymous
Life is but a weaving
between my God and me;
I may not choose the colors,
He knows what they should be.
For He can view the pattern
Upon the upper side,
While I can see it only
On this, the under side.
Sometimes He weaveth sorrow,
Which seemeth strange to me;
But I will trust His judgment,
And work on faithfully.
'Tis He who fills the shuttle,
He knows just what is best;
So I shall weave in earnest
And leave with Him the rest.
At last, when life is ended,
With Him I shall abide,
And I may view the pattern
Upon the upper side,
Then I shall know the reason
Why pain with joy entwined,
Was woven in the fabric
Of life that God designed.
If you would like to share with us any reflections or prayers which you believe might offer others hope, please write to Joe Duffy's Spirit Level, RTÉ, Donnybrook, Dublin 4. You can also email us at spiritlevel@rte.ie
Here is a small selection of those we received. Thanks to all who took the trouble to write to us...
Anne Rigney is a Buddhist, who has found the following reflection by the philosopher Daisaku Ikeda very instructive in the current climate:
"The powerful may appear great, but in reality they are not. Greatest of all are the ordinary people. If those in power lead lives of idle luxury, it is because the people are silent. We have to speak out with impassioned words. We need to attack resolutely abuses of power that cause people suffering. This is fighting for justice. It is wrong to remain silent when confronted with injustice. Doing so is tantamount to supporting and condoning evil." - Daisaku Ikeda

Fr John Carroll of Barntown, Co. Wexford, sent us this prayer, which he read out at Mass, last Sunday. Perhaps this is the sort of thing Eaomon ÓCuív had in mind for these troubled times:
?God our Father,
Continue to make your presence felt among us at this moment in our history.
Be close to all those charged with discerning the way forward for our nation and our people.
Remind us of the many talents and opportunities that continue to be found in the citizens and resources of our country.
In your son Jesus Christ, may we be mindful of the need for solidarity with one another, most especially the vulnerable and the needy.
Steady our nerve in these days and point out to us the shortcomings of panic and fear alone.
Help us to achieve true and sustainable perspective as our future path unfolds.
May each of us realise afresh our ability to make a difference through participation in family, in parish, in the wider community and in our state.
In your Holy Spirit, guide officials and political representatives, local volunteers and community groups.
Mobilise among us a reawakened belief and patriotism as we seek to become again the people you call us to be.
Lead us as committed, charitable and caring citizens, sharers of an agreed, open and workable plan that is respectful and inclusive of all.
Amen.
If you didn't catch the programme, live at 5, on Sunday evening, you can see it on www.rte.ie/player or on this website, along with previous episodes.

Finally, here's a small request from me, Roger Childs, Editor of RTÉ Religious Programmes...
David Langton-Gilks is the 14 year old son of two friends of mine. He's battling an extremely aggressive form of brain cancer... and he refuses to do so quietly! You can lend him your encouragement by clicking here and making a BIG NOISE. http://hidavid.co.uk/
It won't cost you a bean! Feel free to say a prayer for him, too. Thank you.