Joe Duffy presents a live and lively show, exploring spiritual and ethical issues in today's Ireland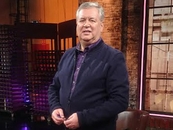 Joe Duffy loves to cook and to entertain so from September 27th to November 1st he is inviting everyone in Ireland over to his place for lunch on RTÉ One. With a selection of interesting alternative recipes to the traditional Sunday roast and with the help of guest chefs this seasons programmes will be packed with lots of new ideas of what to serve up for lunch. As well as making good food there lively discussion exploring the spiritual and ethical issues affecting us all. With guest invited over specifically from differing perspectives and with strong opinions – like all good get togethers the programme will be lively. We will be meeting people who have alternative ways of living and perspectives and there will also be music for every taste. Joe Duffy's Spirit Level will have a refreshed daytime magazine style format. It will be inclusive of the wide audience Joe attracts – this programme will have something for everyone.
Make a date on your couch every Sunday, to join Joe Duffy for lively discussion exploring the spiritual and ethical issues affecting us all – these debates will be served up with delicious food and beautiful music.
Programme 2 Stewards of the Environment
The Theme of the Programme.
Pope Francis delivered his Green Encyclical to the UN Congress in America. Joe and the panel will discuss whether or not the Pope should be involved in issues about the Environment and yet does not address the issues of overpopulation which put huge pressures on third world countries resources. How are we caring for our own environment with our agriculture emitting 32% of our Carbon Emissions do we need to re-think how we live and work? Are we mindlessly recycling our plastic bottles without any consideration to who process them and where they are then sent – are we as bigger hypocrites as the Pope? Are we all guilty of being complacent and should we instead wake up to the responsibilities of being stewards of our own environment?

Guests:
Father Tim Bartlett Editor of 'Cry of the Earth', Dr Cara Augustenborg, Environmental Scientist, UCD, Harold Kingston Chairman, IFA Environment & Rural Affairs Committee
Guest Chef:
Kevin Aherne only sources ingredients from within a twelve mile radius of his restaurant – Sage in Middleton, Co. Cork. He describes his style of cooking as traditional with a twist and works closely with local producers to get the best seasonal ingredients for his menu. Joe and Kevin will be making Smoked Cheese Gnocchi with wilted salad greens and tomatoes.

Guest Musician:
Tommy Fleming updates Joe on what he is up to and explains the significance and why he chose to perform 'Goodbye My Old Friend' for the programme.

Lifestyle Report:
Anna Marie & Max Brosi built their own Eco friendly timber clad home with its upside down roof on stilts in Glenboy near Manorhamilton. 'It was a lifestyle choice to build our own house.

We love our house but it's very ordinary, we are just ordinary people. It was a total dream for us and building it was a good experience. We were on a very tight budget. We did lots of research; driving and talking before we started. Both of us feel very connected to the land. Where we live is father's land .Everything we eat is good, we grow carrots, onions, spuds, cabbage. It's amazing how different they taste when they are just out of the ground. It's our sanctuary'.