Scannal - The Xpenses Factor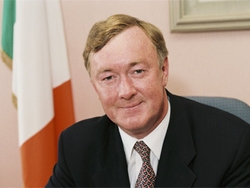 "I know he likes racing - It isn't a sin to like the races" Mary O'Rourke -Iar-Theachta Dála le FF

On 13th October 2009, John O'Donoghue TD became the first Ceann Comhairle of Dáil Éireann to be forced out of office due to an expenses scandal. Expenses claimed by TDs and government ministers had long been looked at with a jaundiced eye by the general public and the media - so what was so exceptional about O'Donoghue's? And why did his travel record force him to resign?
Any Minister's expenses could be deemed as lavish and some would say that O'Donoghue was unfortunate to be made a scapegoat. Ken Foxe, a journalist with The Sunday Tribune, decided to look for details of O'Donoghue's travel expenses while he was Minister for Arts, Sport and Tourism through the Freedom of Information Act. Once the details of O'Donoghue's expenses were published - the genie was out of the bottle. His travels included a six-day trip to Cannes in 2006 which set the taxpayer back nearly €50,000.
1st class travel, 5 star hotels, limousine hire and Michelin-starred dining were all part of a culture of entitlement that existed - the other "parliamentary privilege". Between 2005 and 2008 there were more than 15 members of the Oireachtas who had cleared over €300,000 in expenses tax-free, and it wasn't only Government deputies who benefited from the gravy train.
John O'Donoghue's downfall became inevitable when the Labour Party leader Eamon Gilmore did the unthinkable. After an embarrasing standoff he threw the first stone in a house full of cut crystal! He declared no confidence in the Ceann Comhairle. Ironically he had recovered from a very rocky start as Ceann Comhairle to be widely acknowledged as having acted fairly and done a good job in the role of chair. But even in this context his growing appreciation for the Office of Ceann Comhairle coincided with the luxurious refurbishment of the CC's offices.
More than just the car, the salary, the staff and the office, O'Donoghue's resignation meant that he gave up another privilege - automatic re-election to the next Dáil and in his final speech as Ceann Comhairle he showed a proud but wounded man stating "only the people of South Kerry have the right to exclude me from political life". They subsequently did just that and decided not return him as a TD for South Kerry in the recent General Election.
"I know he likes racing - It isn't a sin to like the races" Mary O'Rourke -Iar-Theachta Dála le FF
Ar an 13ú Dheireadh Fómhair 2009, bhí ar John O'Donoghue TD, Ceann Comhairle na Dála, éirí as oifig ar shála scannal a chuid chostaisí. Is fíor go raibh súil an amhrais caite le fada ag an bpobal, agus ag na meáin, ar chostaisí Theachtaí Dála agus Airí Rialtais i gcoitinne - ach cén fáth ar sheas costaisí O'Donoghue amach i measc chostaisí na bpolaiteoirí Dála eile? Agus conas nár fágadh an dara rogha aige ach éirí as oifig nuair a soilsíodh dindiúirí taistil Theachta Fhianna Fáil Chiarraí Theas?
Seans go bhféadfaí cás na barraíochta a dhéanamh in éadan chostaisí aon Aire Rialtais eile, agus táid ann - John O'Donoghue ina measc - ar an tuairim go raibh sé de mhí-ádh air gur deineadh ceap milleáin as an gCiarraíoch cuideachtúil. Bíodh sin fíor, nó a mhalairt - seo mar a tháinig an scéal chun solais. Chuir Ken Foxe, iriseoir leis an Sunday Tribune, iarratas isteach faoin Acht um Shaoráil Faisnéise, a chuardaigh costaisí taistil O'Donoghue nuair a bhí sé ina Aire Ealaíne, Spóirt agus Turasóireachta. Dá luaithe a soillsíodh na miontuairiscí, bhí O'Donoghue i dtrioblóid. Lú ná sásta a bhí an pobal gur ghlac an tAire Ealaíne mar chúram air féin seáp sé lá a thabhairt ar Fhéile Scannán Cannes i 2006 - íobairt a chuir cáiníocóirí Éireann siar geall le €50,000.
Taisteal Céad Grád, Óstáin 5 Réalta, híreáil limisíní, cothú réalta Michelin agus a leithéid - bhíodar sin uile mar chuid de 'chultúr na teidlíochta' a chroch mar fhallaing timpeall ar ghuailne iad siúd i gcumhacht - gan trácht ar an "fábhar parlaiminteach" sin a luaití mar mhíniú. Idir 2005 agus 2008, bhí breis agus 15 ball den Oireachtas a rug thar an €300,000 an duine leo i gcostaisí - saor ó cháin - agus ní theachtaí Rialtais amháin a bhí san cúigeardéag sin le srón acu sa trach ach oiread.
Ní raibh ach turnamh i ndán do John O'Donoghue nuair a rinne Eamon Gilmore, Ceannaire Phairti an Lucht Oibre, beart gan comparáid. Tar éis dúshlán treampánach gan réiteach, chaith Gilmore an chéad chloch i dteach an chriostail ghreanta! D'fhógair sé rún mí-mhuiníne sa Cheann Comhairle.
Nár dhíol íoróin é bheith aitheanta fán dtráth sin go raibh an 'The Bull' tar éis iompó amach ina chathaoirleach féaráilte ar an Dáil, fiú má bhí a thosach sa jab sin éiginnte. Sin ráite, bhí forás tagtha freisin ar mheas O'Donoghue ar thábhacht oifig an Cheann Chomhairle san eadarlúid chéanna sin - nár mhaise sócúlach d'athchóiriú a bhí órdaithe aige do sheomraí an Cheann Chomhairle!
Mó ná an Carr, an Tuarastal, an Fhoireann agus an Oifig, chosain éirí as oifig O'Donoghue príbhléid eile air - suíochán uathoibríoch sa chéad Dáil eile. Ba fhear uaibhreach leonta a thug óráid a éirithe as mar Cheann Comhairle - "only the people of South Kerry have the right to exclude me from political life", a dúirt sé. Ghlac muintir Chiarraí Theas an deis sin sa toghchán úrnua - níor thogh siad chun na Dála é.
Tá Ken Foxe, Rónán Ó Domhnaill, Cormac Ó hEadhra agus Eoghan Corry i measc saoithe eolacha an chláir.
follow us on twitter @RTE_Scannal