Scannal - Wood Quay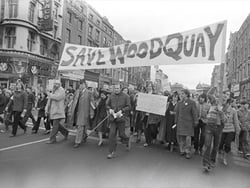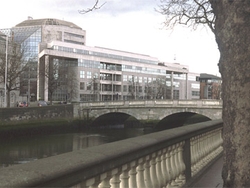 In September 1978 up to 20,000 people marched in Dublin to protest against the building of Civic Offices at Wood Quay and what they saw as the destruction of their Viking heritage. This was the climax of an epic struggle that was fought on many fronts - on the streets and in the media, in the Courts and Council Chamber, and even on the site of Wood Quay itself.
In the early 70's when Dublin Corporation persisted in its plan to build Civic Offices on the Wood Quay site despite expert warnings about its archaeological importance, controversy and conflict was inevitable. But as it became clear that the Viking remains being unearthed on the site were among the most important found anywhere in Europe, the battle lines were drawn. The 'Save Wood Quay' campaign began with a small circle of academics led by an Augustinian Friar & Professor of Medieval History in UCD - Fr. FX Martin, but was eventually supported by politicians, international experts and tens of thousands of the citizens of Dublin. On the opposing side were officials of Dublin Corporation and - to the surprise and dismay of many - the National Museum of Ireland, which seemed willing to condone the destruction of the capital city's Viking Heritage.
"We certainly should have had more time to do a more extensive job. I was there from '74 to '81. I should have been there all my life. I would have been very pleased to have been there all my life. When I left that site in 1981 I knew I would never again do anything as important"
- Dr. Pat Wallace
Head of Excavations Woodquay 1976-1981
& current Director of the National Museum

After protesting on the streets and taking the fight through the highest courts of the land - in a desperate last ditch effort perhaps the most dramatic event during the Wood Quay saga was "Operation Sitric" - the twenty day occupation of the site in June 1979 by a group which included the mendicant Friar - Professor Martin and various high profile politicians, academics, writers, poets and artists.
Although the campaign ultimately failed to prevent the erection of all four of Sam Stephenson's brutalist civic office blocks and preserve the archaeological remains, it did succeed in delaying building work long enough to allow for a more complete excavation at Wood Quay and crucially it also heightened awareness of the importance of conserving Ireland's heritage.
Using rare and never previously broadcast film footage of the dig and occupation Scannal - Wood Quay recounts the saga - shocking for a new generation who have grown up in a very different Ireland but which still evokes strong feelings in those that lived through it.
Contributors to the Programme include: Dr. Pat Wallace, Current Director of the National Museum and then Head of Excavations at Wood Quay 1976-1981; Sr. Margaret MacCurtain, Historian & Occupier during Operation Sitric; Frank Feely, Dublin City Manager 1979-1996; Bride Rosney, former PRO of "Friends of Medieval Dublin"; Frank MacDonald, Environment Correspondent, The Irish Times, Bríd NicCraith, former student protestor and Rónán Ó Muirthile, broadcaster.

Presenter/Reporter - Fachtna Ó Drisceoil
Produced and Directed by Laura Ní Cheallaigh
"I think we did not realise, as a people, that we had a medival heritage. The Vikings were bad! Suddenly the Vikings were NOT bad! We were reclaiming that heritage and people wanted to be part of it."
- Bride Rosney, PRO Friends of Medieval Dublin
"The destruction of Wood Quay' - I don't agree with that. Look at what is there today. Envisage what it could have been. You weren't going to unearth a viking town. That just wasn't there. You would have ended up with a vacant site and I think some of the archaelogists to this very day will accept that the site should have been built on."
- Frank Feely, Dublin City Manager 1979 - 1996
"What changed as result of Wood Quay was that we became more concious of the importance of Dublin's heritage, not just archaelogy but also architecture. We became more aware of the value of the heritage of the city as one of its most endearing and essential features."
- Frank Mac Donald, , The Irish Times

follow us on twitter @RTE_Scannal