Scannal - The Hand of Henry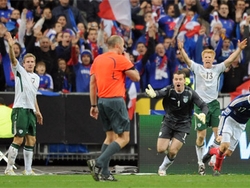 RTÉ One, 5 December 2011 at 19.30pm
They say that football is a 'funny old game', but Irish players and fans weren't laughing the night they were controversially beaten in a play-off against France to compete in the 2010 World Cup in South Africa. The night Thierry Henry handled the ball in Paris is a night we'll never forget.
This week Scannal captures the pain, anguish, frustration and mayhem caused by Thierry Henry's handball in the Stade de France.
The Republic of Ireland team had lost the first leg at home to France in Croke Park and it looked like the tie was over - the Irish team's record in play-offs was dismal as it was. The fans travelled in hope more than expectation, but against the odds the team put in an inspired performance, taking the lead through Robbie Keane and playing France off the park. Ireland's 1-0 win meant the game went into extra-time, but 12 minutes in William Gallas scored the goal that put France through. Few people remember Gallas as being the goalscorer, all they know is that the player who crossed the ball to him after a 'double handball' was the mercurial Thierry Henry.

Irish fans and players felt cheated and most of the blame fell on the shoulders of Swedish referee Martin Hansson and his officials. Others blamed FIFA who had decided to seed teams in the play-offs, thus giving France, Portugal and Russia a better chance of qualification. The following day it was front page news: Every radio show was inundated with angry Irish men and women looking for justice; there were protests outside the French Embassy in Dublin; politicians became involved, the FAI demanded a replay and even the French media pointed the finger of blame at Henry.
In reality, there was no chance of a replay and the FAI even privately asked FIFA if they could be allowed play in the World Cup as the 33rd team. The chairman of FIFA Sepp Blatter thought that this was hilarious and told the world about this silly notion, angering thousands of Irish fans again in the process. The FAI also refused to accept a Fair Play award from FIFA. However, in many Irish fans' eyes justice was served to a small extent during the World Cup in South Africa, as France didn't win a match, Nicolas Anelka was sent home and the team went on strike, returning to Paris in disgrace. It was also the end of Thierry Henry and their manager Raymond Domenech at international level.

Contributors to the programme include Liam Brady, who was Irish assistant manager at the time, soccer journalists Aidan Fitzmaurice and Ciarán Ó Raghallaigh who were on duty in Paris that night, Hervé Amoric who is a broadcaster with France 24, and Evelyn O'Rourke who was working on the Gerry Ryan Show at the time and remembers the mayhem of the following day.

Presenter / Reporter Garry Mac Donncha
Producer / Director Laura Ní Cheallaigh

RTÉ One, Monday, 7.30pm

follow us on twitter @RTE_Scannal