The Swimming Nightmare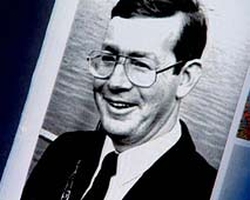 From the 1960's, swimming in Ireland was blighted by a secret underworld of systematic sexual abuse of children.
The dream of Olympic glory spurred parents and children to commit to extraordinary training regimes at unsociable hours. This helped place vulnerable young people under the care of certain coaches whose power to make or break a swimming career presented them with opportunities to abuse at will.
Meanwhile, the Irish Amateur Swimming Association, responsible for administering the sport, turned a blind eye. The Association's failure to take action, in the face of mounting evidence presented to it in the early nineties by reliable sources, remains a cause of pain for the victims to this day.
In the silence of early morning changing-rooms, car parks and swimming pools, children, some as young as eleven, encountered the evil behind the sporting celebrity. Employing the lure of possible Olympic glory, George Gibney and Derry O'Rourke abused scores of children. The criminal damage done to an unknown numbers of young swimmers is incalculable.
In the 1990s the unveiling of the swimming scandal was so shocking that it is only now that we are able to pull the threads together and observe the ruins of the sport of swimming from afar. In a catalogue of horrendous exposés it was discovered that the country's Olympic and National coach, George Gibney, had been abusing boys and girls in his care for years. It took years to remove this predator from his post but he was eventually replaced by Derry O'Rourke. Then O'Rourke was discovered to be a paedophile of some notoriety and he ended up in jail. In the middle of these two aberrations the incidence of Frank McCann, another doyenne of the Irish swimming fraternity, shocked the nation. He murdered his wife and niece when he deliberately set fire to his own home.
Scannal draws together these three major personalities in Irish Swimming and looks at the events that led up to their discovery and, in some cases, punishment. With Gibney living free in America, McCann serving life in jail and O'Rourke due for imminent release, the programme takes a timely look at the first case of large scale child abuse in this country and asks if the sport of swimming can ever recover while the victims of this scandal still suffer.
Presenter/ Reporter: Pat Butler
Producer/ Director: Irene McCormick
Support numbers:
If you have been affected by this programme and would like to speak to a counsellor the HSE National Counselling Helpline Service (NOVA) is open following this programme from 8.00pm - 10.00pm.
For those calling from The Republic of Ireland you can call freephone 1800 235 235.
If you are calling from Northern Ireland or the UK you can call 0 0800 235 235 55.
The phone line also operates daily:
Wednesday & Thursday: 6pm - 10pm
Friday, Saturday & Sunday: 8pm - 12pm