Scannal - Susie Long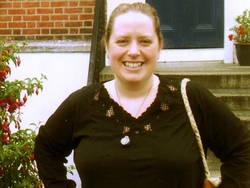 Susie Long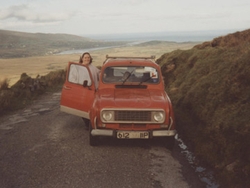 Susie Long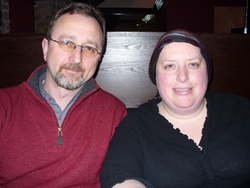 Susie with Conor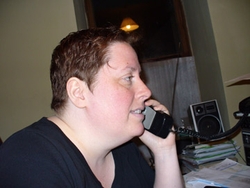 Susie Long
In January 2007, a young mother known only as 'Rosie' revealed on the national airwaves that she had been handed a death sentence by the Irish healthcare system. With her emotional and emotive e-mail sent to Liveline, Susie Long ignited a public and political debate about the cruel inadequacies of the two-tier healthcare system, exposing a personal tragedy that resulted from long waiting lists for public patients. Susie Long died of bowel cancer on the 7th of October 2007, aged 41 years.
Over three years after her death, family and friends recall the life, legacy and last days of Susie Long in this SCANNAL documentary: her campaigning spirit, her commitment to social justice and her unshakeable belief, , in a just and equitable healthcare system for all, even in the face of death.
In the summer of 2005 Susie went to her GP and was referred to her local hospital in Kilkenny for a colonoscopy. She waited patiently for this appointment for seven months as her symptoms continued to worsen. When a colonoscopy was finally performed in February 2006 Susie was diagnosed with advanced bowel cancer that was to be terminal. While undergoing chemotherapy in St Luke's Hospital Kilkenny Susie got chatting to a man in the bed next to her. He was also being treated for bowel cancer. He'd been referred by his GP at the same time as Susie for a colonoscopy but unlike her he had private health insurance and so only waited 3 days for the test. His early diagnosis was key to his survival. It was this chance encounter that ignited Susie's anger and motivated her to write her powerful email to Liveline.
Susie's email and subsequent phone calls to Joe Duffy described her anguish as she waited for seven months to be diagnosed with cancer because she was a public patient, a delay which she believed had cost her her life. Susie's personal tragedy provoked a huge public outcry, for many her story graphically illustrated the reality of the two tier health system. Regrets were expressed by Health Minister Mary Harney and Taoiseach Bertie Ahern who claimed the system had failed her. Motivated by the overwhelming public and media reaction to her tragic story as well as her own strong personal conviction that all patients should get equal priority and care on the basis of medical need not ability to pay, Susie spearheaded a public campaign during her illness to initiate changes in the Irish system.
SCANNAL includes contributions from Conor Mac Liam (Susie's husband); Joe Duffy (RTÉ broadcaster); Dr. Garry Courtney (Clinical Director St. Luke's Hospital, Kilkenny); Eimear Ní Bhraonáin (Irish Independent); Marie O'Connor (Health Analyst); Malcom Noonan (Friend) and Áine Nic Liam (Susie's daughter. Áine speaks publicly for the first time about their Mother/Daughter relationship - not always an easy one and the new understanding she developed during Susie's final days, for her mother's values, stubbornness, and determination to change the system.
Reporter - Pádraig O Driscoll
Produced and Directed by Laura Ní Cheallaigh
"Susie would always remind you of your own humanity, and to stretch it, and to push it, and to say that this man deserves to live, but so do I. " - Joe Duffy
"I suppose I'm grateful that at least we had some time before she went...If she died in a car accident when we were still fighting I would have been a lot more devastated."- Áine NicLiam.
"She was quite amazing and quite uplifting and despite having come from a negative start she would be someone I would remember as one of the most remarkable persons I have ever met." - Dr. Garry Courtney
"She didn't believe that any injustice should be left covered up. Possibly that gave her the strength, when she had cancer herself and was dying, that she had to continue in that role, to stand up for herself and for others. I think she did herself very proud." - Conor MacLiam.
National Cancer Helpline:
1800 200 700 (Mon-Thurs 9-7, Friday 9-5)

E-mail: helpline@irishcancer.ie

You can chat online with our specialised cancer care nurses on Monday-Thursday from 9am-7pm and Fridays from 9am-5pm - click the picture to the right to launch the chat window.


follow us on twitter @RTE_Scannal