Scannal! - Sinead O'Connor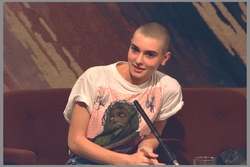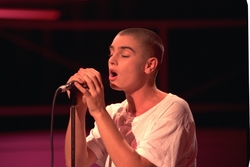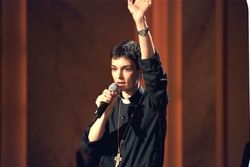 Sinéad O'Connor - Rock Star, Mother, Priest - the woman who seems to have launched a 1000 Scannals. Her unique voice rocketed her to international stardom but on the verge of making it big in the United States - it was that moment on "Saturday Night Live" where she tore up a picture of Pope John Paul II that the world remembers.
"Sinéad is an enigma...but the most important thing is the music that she's done. Everybody knows the other stories..the headlines, The Late Late Shows - the irksome stuff......and I look at it like everyone else does and I kinda laugh along with it. Good Old Sinéad." Dave Fanning
Although Sinéad was maybe the most regular guest on the Late Late Show down the years - she started performing at the Waterford Folk & Arts Club, while still a student at Newtown School.
"I can remember well standing at the bar here when I heard her sing first....I was totally blown away, No one knew this girl, we didn't know where she came from, certainly didn't know what the future held for her but she was absolutely something else... She had star quality. " Martin Waterford Folk & Arts Club.
It was Joe Falvey - her Irish Teacher in Newtown School who arranged the gig for her. He was a key support to the young Sinéad, going onto organise her first demo tape. He could see that her talent, drive & uncompromising approach was not easily going to fit into the prescribed norms of the wider society.
"That's driven her creativity, one is interlinked with the other. She doesn't put on a controversial coat and say I'm going to be controversial today - she just is, it just comes out, it's in her nature." Joe Flavey - Sinéad's Irish Teacher, Newtown School, Waterford.
Waterford, while an important grounding period,was just a stepping stone -
"We always watched her career in the media afterwards - we felt a personal connection - she was extremely talented and extremely beautiful..the whole fame thing took off so quickly for someone so young...and then the press persona was the one everyone kept focussing in on and I kept feeling there was a real Sinéad somewhere in behind all that." Liam Merriman, Local Radio Waterford.
Headlines & Sinéad were never far apart - and she's one of a select group of people whose first name is enough. We've all come to know who they mean when the headline screams SINÉAD!
"Caithfidh go bhfuil an chuid nuachtáin agus go bhfuil grá acu do bhean seo mar - bliain in ndiaidh bliain, tagann sí amach le línte, eachtraí, le scéalta a líonann na páipéirí dóibh." Evelyn O'Rourke RTÉ 2FM
Whether it was her support for a variety of political causes, her views on abortion, her advocacy for victims of abuse or her religious faith and where it lead her, her looks even her own sexuality, Sinéad O'Connor could never be accused of pulling her punches.
"... to be blunt and not to be as glib as this is going to sound - Sinéad has "Issues" of her own and.... she's been addressing them down through the years in ways that have made us laugh, made us cringe and made us think: "Ugh she's not really doing that, now is she?" ...and it's so far outside the music remit that I only have the same opinion as other people do. In terms of oh! right she's a priest on the Late Late now, OK! She's a lesbian this week...OK! ..I think it's all good...
Maybe Sinéad is doing it, so I don't have to! " Dave Fanning
But for the Irish public Sinéad was still a favourite - regularly brought into everyones living rooms courtesy of the Late Late & Gay Byrne's infatuation with her. That's how many people who'd never have gone to her concerts got to know & love Sinéad. Maybe until the night she appeared as a priest!
"I think people were shocked and if you go back at bit further we were all shocked the first time we saw Sinéad on TV with a shaved head, a beautiful young girl in a pair of Doc martins, jeans and a shaved head. I mean that was a shocking image at the time wasn't it. That was unexpected, that was a surprise." Liam Merriman

"The thing about Sinéad is that everybody has an opinion about Sinéad O'Connor and 75% of those opinions are based on what she does, what she says and what she is & only about 25% on the music. Which is a bit of a shame is some ways..."
Dave Fanning
Is it a Scannal or just Sinéad - you can be the judge!

Researcher: Padraig O'Driscoll
Producer/Director: Kevin Cummins