Scannal - Terry Keane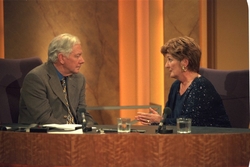 The Late Late Show May 1999 - Terry Keane & Gay Byrne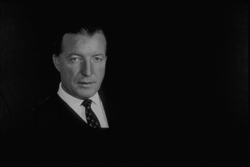 Charles Haughey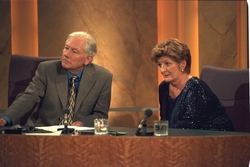 Terry Keane & Gay Byrne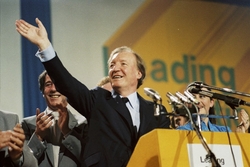 Charles Haughey
Monday 3rd March 2008 RTÉ ONE 19.30hrs
"It was the most spectacular betrayal of trust, of love, of a relationship that was possible. Because although she said she still loved him & that he still loved her - it was laying everything out for money. " Terry Prone - Media Consultant
The Late Late Show has stopped and shocked the nation many many times - but just when Gay Byrne was readying himself for retirement and the audience might have thought - well that's it - the end of an era - just then on his 2nd Last show - May 14th 1999 - Gaybo pulled the ultimate rabbit out of the hat and revealed before the nation that Charlie Haughey had had a 27year affair with journalist Terry Keane.
Nobody can deny the impact of that interview - it changed the way we view political history in Ireland. But what does it tell us about Charlie? Or even Terry ? More importantly what does it tell us about ourselves ? How was it that for over a quarter of a century one of the most controversial political figures in Ireland conducted an extra marital affair - hidden in plain sight ?
"Bhí fhios ag gach madra iriseoir le 28 bl céard a bhí ar súil is cuimhin liom fheín ag tosacht amach mar iriseoir i lár na 70í go luath tar éis súil isteach i seomra nuachta an Independent - in Abbey St - insíodh an scéal sin dom."- Paul Drury - Managing Editor - The Irish Mail
Was it right to "out" Charlie? Has journalism changed utterly ?
"Ní gach lá a dheintear outing poiblí ar iar-Thaoiseach agus an scannal a bhaineann leis - ar an telefís. Ach tharla sé sa cás seo." Paul Drury - Managing Editor - The Irish Mail
Keane who was paid for the "Kiss and Tell" articles which were published in the Sunday Times - reappeared on the Late Late Show in 2006 to say she regretted having done what she did.
Series Producer & Director : KEVIN CUMMINS
Reporter : Pat Butler