Scannal - Liam Lawlor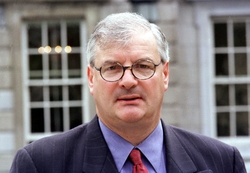 Liam Lawlor
Monday 25th February 2008 RTE ONE 19.30hrs
Three years after his mysterious death in a car accident in Moscow, Scannal takes a look at one of Irelands most controversial and colourful politicians, Liam Lawlor.
After firstly refusing to attend and then refusing to co-operate with the Flood Tribunal, Liam Lawlor became the first TD in the history of the state to be sent to prison for non-political reasons, not once, not twice, but three times. For most of his political life we witnessed the former Dublin hurler in his own inimical way fielding questions from the media and taking head on, anyone who dared challenge him.
Charlie Bird :"Is it not time you co-operated fully with this Tribunal and save the tax-payer all the expense of this going on every day here?"
Liam Lawlor:
"Have you nothing better to be doing. You're being paid by the tax-payer, Charlie"

So why was Liam Lawlor so reluctant to co-operate with the Flood Tribunal? What truth was he trying to conceal? Was it the profit he made from a decision by Dublin County Council to rezone sections of his land in the early 1980s? Was it his business connections with Larry Goodman, or was it payments he received in relation to the development of the Liffey Valley Shopping Centre near Quarryvale in west Dublin? According to the Tribunal between the years 1983 and 2000 nearly €5 million passed through Liam Lawlor's many accounts throughout the world. Was he therefore the Mr Big that Frank Dunlop claimed he was, or was he just playing the same game as many other councillors at the time? In discussing these questions Scannal talks to journalists, constituents and politicians, such as Mary Muldoon former Fine Gael councillor on Dublin Corporation, who resigned from her own party due to what she saw as her own party's involvement and tolerance of planning corruption.
Though on the 21st October 2005 Liam Lawlor's controversial life came to an abrupt end, the controversy didn't. The subsequent scandalous coverage of Liam Lawlor's mysterious death in a car accident in Moscow saw sections of the Irish media sink to a new low. Throughout his life, Liam was in the eye of a media storm, yet he always seemed to accept this as part of the course for any public official.

Reporter: Pádraig O' Driscoll
Producer/Director: Dónall Ó Maolfabhail
Series Producer : Kevin Cummins