Scannal - Bishop Brendan Comiskey & The Ferns Scandal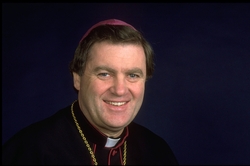 Bishop Brendan Comiskey
Monday March 10th, RTÉ ONE 19.30hrs
There were over 100 allegations of child sex abuse in his diocese and Bishop Brendan Comiskey failed to act.
The most notorious of these abusers was Fr Seán Fortune - 66 allegations of abuse were made against him by 26 boys. Despite the many complaints he received, Brendan Comiskey failed to stop him.
But it was the stance he took in the parish of Monageer in 1988 that was probably Comiskey's most symbolic betrayal of the children in his diocese. He knew that the allegations of the sexual abuse of 10 girls had been confirmed by the Health Board. But on the day of the girls' confirmation, the bishop stood on the altar alongside the very priest who had abused the girls. The scandal split the community.
Bishop Brendan Comiskey was hailed as "a breath of fresh air" when he first came to Ferns. The people of Wexford lined the streets in their thousands to welcome him. A flamboyant and charismatic cleric, he had weakness for fine wine and a taste for good food and convivial company. He was the darling of the media and his future seemed very bright when, appointed auxiliary Bishop in Dublin in 1980, he became the youngest member of the hierarchy.
Though many didn't like his 'style', Bishop Brendan Comiskey had shown few signs of anything other than theological orthodoxy and faithfulness to Rome - that was until he caused a sensation by clashing publicly with the Primate of all Ireland, Cardinal Cahal Daly over the issue of priestly celibacy. Ireland that never seen the like; two bishops squabbling publicly. He caused a further public sensation when, without warning, he fled his diocese to an alcoholism clinic in the US. Allegations of dubious trips to Bangkok, financial impropriety and drunken behaviour followed in his wake.
He weathered the storm but the questions over his handling of sex abusing priests would not go away.
It was a BBC documentary, Suing the Pope, which finally brought him down. The heart wrenching stories of abuse by the actual victims shocked the nation and Brendan Comiskey resigned as Bishop of Ferns.
Producer Director: Aifric Ní Chianáin
Presenter Reporter: Fachtna Ó Drisceoil