Scannal! E-Voting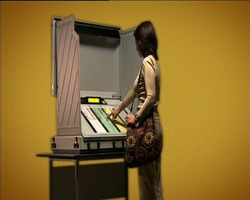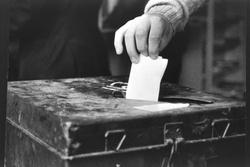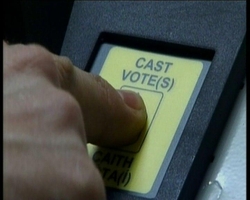 Scannal returns to our screens with a new series looking at events that shocked, outraged, amused and incited the nation. In 2007, an election year, we take a timely look at the hugely controversial question of how we should vote.
Give up your "stupid old pencils" was what the Taoiseach wanted us to do - the Government were determined to throw out the ballot box and bring in a new hi-tech era of 21st century e-democracy. The controversial e-voting saga began back in the 1990's. But three Ministers of the Environment later and with almost €60million of taxpayers money spent on it , this year, we'll once again being doing it the old fashioned way!
How did the great plans go awry? Was it some black conspiracy to subvert the democratic process or just a cock-up? Did the system work? Or were the objectors just ludite technophobes?
Major public information campaigns costing millions would have had us believe that electronic voting would be..."as easy as pushing a button." But when the computer experts got around to looking at the system it wasn't as simple as that, particularly because the software was secret and privately owned by a Dutch company - so could you really be sure what happened to your vote? Not according to a group in the Netherlands who used information which came out of the Irish E-Voting commission to prove that the machines used for years in Holland were not secure. Similarly in the US - citizens groups have recently proven voting machines there to be seriously flawed.
Scannal E-Voting - it's a rip roaring rollercoaster ride through that weird never-never land where politics meets technology..