Scannal - Reservoir Bankers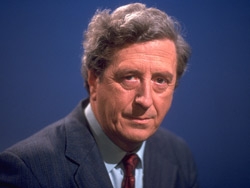 AIB, one of the country's biggest banks, got itself into a financial mess so dire that it threatened to bankrupt not only the bank itself but also the country.
This scenario may sound all too familiar but it happened in 1985, over twenty five years before the current Property Bust, Anglo Irish Bank Crisis and NAMA.
SCANNAL : Reservoir Bankers tells the story of AIB 's disastrous foray into the insurance business with its purchase of The Insurance Corporation of Ireland, a near catastrophe that served as a dress rehearsal for today's crisis.
Several of the major players in the scandal including the then Taoiseach Garret Fitzgerald and Minister for Finance Alan Dukes along with writer/commentator Senator Shane Ross, financial expert Conall Ó Moráin and journalist Siobhan Creaton. How much did it cost? And did we learn anything?
"We obviously didn't learn much in terms of supervising the banks, clearly whatever lesson should have been learned did not pass on but then again I don't think we're great at institutional memory in this country.." Dr Garret Fitzgerald (former Taoiseach)
SCANNAL unravels a tale of deceit, incompetence and corporate arrogance and a cast of characters and outrageous plot twists that would make Quentin Tarantino blush.
Reporter: Sinéad Ní Churnáin
Producer & Directed by : Ferdia MacAnna
Executive Producer: Kevin Cummins