Scannal - Monagear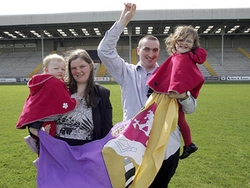 "4 Bodies found in Family home."
Monagear, a small village in Co. Wexford hit the headlines with horrific news that shocked the nation. On 23rd April 2007 the bodies of Adrian & Ciara Dunne as well as those of their two young daughters Shania and Leanne were discovered in the family bungalow. The Gardaí were not looking for anyone else and it quickly became clear that this was a tragic murder/suicide.
The Dunne Family Tragedy was hard for us to grasp - so many questions? How could such an awful thing happen? And as reports emerged that the parents had made arrangements for their funerals including white coffins, DORA dolls and Liverpool jerseys for their two small girls, just days earlier, the horror and shock intensified. Could anything have been done to prevent these deaths? Could the little girls have been saved? SCANNAL revisits the story that shook every household in the country.
How did a family which was well known to the social services and the HSE, become so isolated and desperate? Why did the authorities not intervene when they were alerted by the heroic efforts of a local undertaker who felt that something was seriously wrong.
Did the father act alone? Was the mother under his influence? How can a mother not try to stop the murder of her babies?
Their last wish was to be buried together but that was not to happen..
"Instead we pick heaven . Please forgive".
Was the last text message Adrian Dunne sent to a local priest.
Is deacair a thuiscint nuair a mharaíonn máthair nó athair a gcuid gasúir féin.
Ar an 23ú lá de Aibreán 2007 Móin na gCaor baile beag I lár chontae Loch Garman ach an téann cháil atá air ná tragóid "Na Dunnes". Fritheadh coirp fuar an cúpla óg grámhar Adrian agus Ciara Dunne agus an bheirt iníon Leanne agus Shania.
Tugadh le fios go raibh Na Dunnes faoi súil Feidhmeanannacht na Seirbhísí Sláinte agus fós fágtha iad suaite agus imeallach, cén fáth freisin nuair a ghlaoigh an t-adhlacóir laoch an scéal ar na Gardai nách raibh ar a gcumas na páistí óga a shábháil.
Raibh Adrian freagrach as an marú, raibh Ciara faoi thionchar a fear, cé chaoi nár chuir sí stop leis an marú.
Is cinnte go raibh Adrian agus Ciara faoi rud amháin sé sin go mbeadh siad ar fad curtha sa talamh le chéile ach faraor níor tharla sé seo!
follow us on twitter @RTE_Scannal
Reporter: Bláthnaid Ní Chofaigh
Director: Diarmuid Goggins