Scannal - Michael Lynn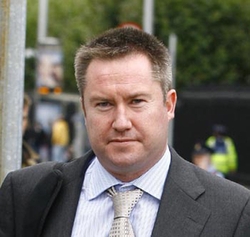 Michael Lynn
Scannal charts the rise of Michael Lynn from a humble Mayo background to the dizzy heights of the multi million euro foreign property market. It looks at how Lynn operated and how he managed to finance his property empire by exploiting the trust that had been placed in him as a solicitor. The programme talks to some of those who have been hurt by his dishonesty and the programme looks at why the system allowed this to happen and asks, could it happen again?
Everyone fell for Michael Lynn, clients, friends, bankers, colleagues. He was a man on a mission. Filled with big ideas and broad ambitions, he epitomised the Celtic Tiger at full roar. He was going to fulfil the desire of thousands of Irish people to own a foreign investment property that would yield them a quick return and a golden nest egg. Many handed over sizeable deposits and waited for their dream futures to be built. For many the dream turned to an appalling nightmare, when on the 13th October 2007 the Irish Independent ran a front page story about a solicitor who had fled the country owing €30m to clients.
Nearly two years on the disgraced former solicitor who preyed on people's trust has left a trail of devastation behind him. Now a fugitive with a warrant out for his arrest, after fleeing the country and failing to turn up for a high court hearing. He owes over €85m in debt and has left hundreds of private investors with mortgages and loans on properties that were never built.
Originally from a hundred acre farm in Crossmolina, he loved music and once set up a wedding band with former Eurovision singer Marc Roberts. He was also a keen GAA player and supporter and would later fully exploit his GAA connections to garner publicity for his foreign developments. Rui Costa, the Portugese football star was the face of his Algarve development. He even called on the Late Late Show to promote his wares, offering one of the biggest prizes ever given away on the show's history, an apartment in Bulgaria.
Investors from all walks of life were taken in by his sales pitch. Roscommon TD, Frank Feighan, a veteran of the investment property market got stung to the tune of €46,000. For Caroline Taylor a chance meeting with the 'charming' Michael Lynn at the local health spa led to her re-mortgaging her home to tune of €56,000. It was to be the investment that would see her young family through university. Caroline is very angry that Lynn was allowed to draw down multiple mortgages form the banks unchecked.