Scannal - The Curious Case of the Mayo Librarian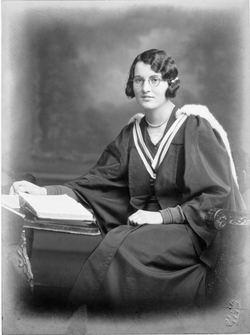 Letitia Dunbar Harrison at Trinity College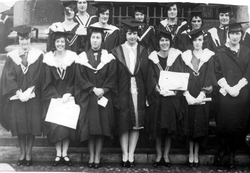 Letitia Dunbar Harrison's Graduating Class at Trinity College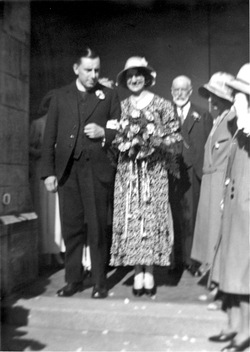 Letitia's wedding to Rev. Robert Crawford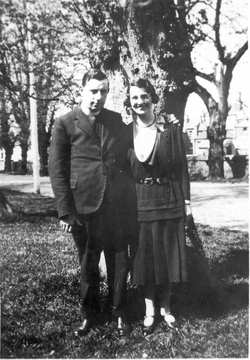 Letitia & Rev robert Crawford pictured on The Mall, Castlebar, Co. Mayo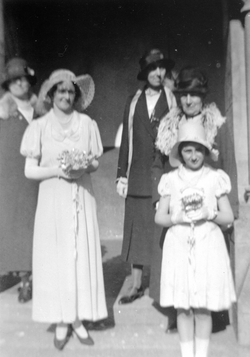 Jean Walker (niece of Letitia) and family at Letitia's wedding
Aileen (Letita) Crawford in later years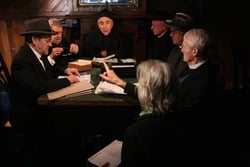 Reconstruction of Mayo Co.Co. Library Cttee meeting to discuss Ms Dunbar Harrissons Appointment
The appointment of a county librarian in Mayo in 1930 shouldn't have made the national headlines, but it did, and the controversy rolled on for months giving rise to a conflict which set Church against State, Mayo County Council against W.T. Cosgrave's Government. It spawned heated Dáil debates with amoung the chief protaganists, opposition leader Eamonn de Valera and Minister for Local Govt. General Richard Mulcahy.
"It was peculiar...that a small issue in Mayo just started to escalate and a snowball just rolled on into an avalanche...It became a national issue and could have brought down the Government" Pat Walsh, Author & Librarian
Scannal recounts this amazing story of sectarianism and politics in 1930's Ireland with dramatic reconstruction of the heated council debates. We reveal the historical cabinet papers on the row and secret talks between Church and State. The case was notorious almost 80 years ago and even today has resonances in the minefield that is Church / State relations.
Ireland in the late 1920s was a fledgling state trying to find its feet and the Cumann na nGaedheal Government adopted a stong policy position against corruption, patronage & jobbery when it came to Government funded positions. They set up the Local Appointments Commission (LAC) to oversee recruitment to senior posts in local authorities, removing any opportunity for nepotism and taking away the power of patronage from County Councils.
By 1930 over 100 appointments had been made by the LAC, appointments that were accepted by County Councils up and down the country - under the Law they had no option - that is until the curious case of the Mayo Librarian.
In July 1930 Letitia Dunbar Harrison, a young woman from Dublin, was selected by an interview panel of the LAC for the post of Mayo county librarian, but Mayo county council, in defiance of the law, refused to sanction her appointment. Her lack of Irish was initially put forward as the reason but in reality it emerged the main crux of the issue was that Letitia was an honours graduate from Trinity College and a Protestant!
In the eyes of the Roman Catholic Clergy, who dominated the Library Cttee, and the majority of County Councillors, such a person was not suitable for 'Catholic Mayo' particularly when the history of Protestant proselytising "Souperism" in 19th Century Mayo was still firmly within living memory at the time.
".The only outstanding qualification she has is that she is a Protestant and was educated in Trinity College. Are these not peculiar qualifications for a Catholic county like Mayo? 99 percent of the people of Mayo are Catholic." Monsignor D'Alton member of the Mayo Co.Co Library Cttee.
The Government stood firm, sacked the County Council installed a Manager and had Letitia appointed. However, in the county that gave the word "Boycott" to the language, all but 5 of the 130 Mayo library centres boycotted the new librarian and there was a classic mexican stand-off between central and local Government with the 25year old Letitia caught in the crossfire.
Facing into an election year in 1932 politically something had to give. A depressed economy as well as other issues seemed to conspire against the Cumann na nGaedheal Government. Secret Government talks with church authorities, caused internal divisions, Minister Desmond FitzGerald (Father of Garret FitzGerald) threatened resignation. But the Cosgrave Government got themselves off the hook by offering a 'promotion' to Letitia to work as Librarian in the Military Library in Dublin.
"Essentially they were just looking for a fig leaf for their own sensibilities...they declared victory, that they had stood up to the church she had stayed her year in Mayo and she had voluntarily moved onto a new job. But the best you could say was that it was a score draw. In alot of ways it was a defeat for the Govt and it set back library services in Ireland for at least 20years. " Pat Walsh, Author & Librarian
After just a few months in her new position Letitia Elizabeth Aileen married the Reverend Robert Crawford a Methodist Minister whom she met during her time in Castlebar. Ironically, due to the marriage bar, she then had to resign her controversial post and she began a new life as a Methodist Minister's wife.
From then she was known as Aileen Crawford and the couple served on the circuit in many parishes around Ireland in Waterford, Tipperary, Louth and Antrim. They had no children and in the 1950's after Robert Crawford's death Aileen Crawford remained in the North never to return to live in the Republic. She was a commited Christian and went on to have at least one other surprising brush with authority.
Soon after the death of her husband she felt called to ministry in the church and controversially attempted to become what would have been the first female Methodist minister in Ireland. At a time when the Church had not legislated for such a novelty. But as there were no regulations to bar her from the ministry she could not be refused but she was failed on one of the required written examinations. Nevertheless, as the first woman to apply for the Ministry she was the catalyst that led the Methodist church in Ireland to consider the issue and change their rules to allow women to become clergy.
Letitia or Aileen continued to contribute hugely to her adopted Methodist Church for many years and died in 1994 aged eighty-eight. She never spoke of her time in Mayo.

Contributors to the programme include Ristéard Mulcahy, son of General Richard Mulcahy, who talks about the stand his father took against jobbery and corruption as Minister for Local Government at the time of the controversy. Neasa Ní Chinnéide, who is married to the current Provost of Trinity College talks about the women who attended the college in Letitia's time. Dr Miriam Moffitt, NUI Maynooth, an expert on the Protestant missions of the 19th Century gives and insight into sectarianism in early 20th Century Ireland and Mayo in particular. There are also contributions from historian Gerard Moran of NUIG and from librarian Pat Walsh who has written about the Mayo scandal as well as Labour Party leader Eamon Gilmore TD , who still thinks that the sectarian elements that existed in 1930 still exist today.
Finally, two people who knew Letiitia personally, Dr Edith Loane, (former President of the World Federation of Methodist Women) and Jean Walker, her only surviving niece & bridesmaid at her wedding. Jean remembers her aunt being a woman ahead of her time.
Presenter / Reporter: Garry Mac Donncha
Series Producer & Director: Kevin Cummins