Mature Recollection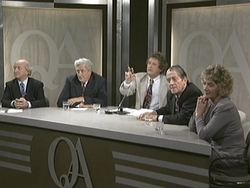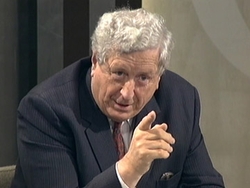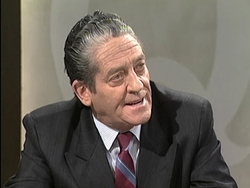 Monday, 24th September, RTÉ One, 7.30pm
An election marked by scandal and controversy. Allegations against the leading candidate. Dramatic TV moments that changed the course of the campaign. The presidential election had it all - the presidential election of 1990 that is!
Fianna Fáil's candidate was the seemingly unbeatable Tánaiste & Minister for Defence, Brian Lenihan Snr. But he got himself into trouble when he denied having made certain phone calls to Áras an Uachtaráin in January 1982.
At a dramatic press conference held by the Irish Times, a taped interview conducted by UCD student Jim Duffy was played to the media. The assembled journalists heard Brian Lenihan's voice saying that he had called the Áras that night back in 1982. In a famous television interview with Seán Duignan on RTÉ Six:One News later that evening Lenihan coined a new phrase to explain the discrepancy between what he was now telling the Irish people and what he had previously told Jim Duffy - 'mature recollection'. There followed an increasingly bizarre election campaign during which Charles Haughey sacked his own party's presidential candidate from the cabinet, and yet appeared on stage with him at a final campaign rally asking the Irish people to make him their president. Pádraig Flynn didn't help matters with his notoriously ill-judged attack on Mary Robinson's family values. The result was Fianna Fáil's first ever failure to win a presidential election.
SCANNAL - Mature Recollection" recalls the dramatic events of the 1990 presidential election and talks to some of the key players. These include the man who made the famous tape, Jim Duffy; then Fine Gael leader, Alan Dukes; Mary O'Rourke, sister of Brian Lenihan Snr.; and Paddy Duffy, a member of the Lenihan campaign team. What was really going on behind the scenes? Was Brian Lenihan the victim of a carefully orchestrated Fine Gael ambush? Who was really telling the truth about phone calls to the Áras in January 1982?
For the first time on Irish television, SCANNAL reveals the offical log kept by the army officer who took all phone calls to Áras an Uachtaráin on that fateful night in 1982, a document that resolves, once and for all, one of the great political mysteries of recent decades. .