Scannal - Lying Eyes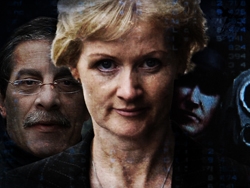 Sharon Collins
Monday, 23rd January, RTÉ One, 7.30pm
In the summer of 2008 a jury at a high profile and bizarre trial held at the Central Criminal Court painstakingly listened for over seven weeks to evidence that read like the plot of a Hollywood blockbuster: A younger woman plotting to kill her wealthly partner and his two sons, a Las Vegas poker dealer turned hitman, FBI investigations, digital trails of evidence and the most deadly poison known to man. This SCANNAL tells the sensational story of Sharon Collins, a petite blonde 44 year old woman from Co. Clare accused of hiring a hitman on the internet to kill her wealthy partner PJ Howard and his two sons. Using the email psydonym lyingeyes, Collins made contact with Tony Luciano -- aka Essam Eid on Hitmanforhire.com which purported to kill for a fee. Little did Sharon Collins know, that Eid was actually an Egyptian born Las Vegas poker dealer who had set up the website more with money rather than murder on his mind.
Having received a €15,000 deposit from Colllins, Eid flew to Ireland with his wife Theresa Engle in September 2006 carrying the deadly poison Ricin to kill Co. Clare businessman PJ Howard and his two sons Robert and Niall. But the plot backfired when the would-be assassin tried to blackmail Robert Howard - looking for €100,000 to call off the contract murders and he was caught red handed by the Gardaí. His arrest unraveled a secret web of lies and deceit and scuppered the plan by a scheming Sharon Collins to claim her partner's inheritance.
The investigation which followed including FBI searches of Eid's Las Vegas home and computer led Gardaí on a trail of computer and digital evidence to Sharon Collins. The trial, which revealed a trail of 44 pages of emails and numerous phone calls between the two accused, captured the public imagination. Eid and Collins had agreed PJ's sons would be poisoned in their local pub while their heartbroken father would be killed shortly after hearing of their deaths. A push off the roof of the apartment he owned in the Costa Del Sol would be made to look like suicide. Emails Collins had sent to the Gerry Ryan radio show were also recovered which claimed that her partner had plagued her with unusual sexual demands.
Sharon Collins' composed and smart appearance entering the Central Criminal Court in Dublin during the trial made the headlines each evening. She constantly denied that she was behind the Lying Eyes email account. In the face of betrayal and public humilation bizzarely P.J Howard, stood resolutely by his former lover throughout the trial and said he would never give up on her. Collins was convicted of soliciting a hitman (her conviction for conspiring to murder was overturned on appeal) still serving her sentence, she is due for release later this year. Stories abound of lucrative book and TV deals on her release and even the possibility of Lying Eyes being immortalised in a Hollywood film.
Closing the case prosecution counsel Una Ní Raifeartaigh told the jury that from a distance this may look like a cheap thriller that Collins herself may have written, but the case is a tragedy for everyone involved.
Producer/Director: Laura Ní Cheallaigh
Presenter/Reporter: Pádraig O'Driscoll
'I think Sharon Collins was quite naive in her use of computers, her google searches went out of control and before she could hold back she had suddenly made contact with hitman and there was no turning back at that point.'
Emer Connolly, author 'Lying Eyes'
'Sharon Collins has always been extremely adament that she is innocent of these charges. She, from the very beginnning, said she had no involvment good, bad or indifferent, in conspiring with anyone to murder PJ Howard or his sons or to solicit anyone to do so. That is her position now and it was during the trial.'
Eugene Kelly, Solicitor for Sharon Collins
'PJ's courtroom kiss shellshocked the court, there was not doubt about that. It was one of the major talking points of the trial. He had so much to say in her defence during his evidence, but it was the action, the kiss that shocked given the strong evidence against her that he was still willing to support her.'
Emer Connolly, author 'Lying Eyes'
'There's considerable interest in Sharon Collins story, we have been approached by Producers from America and various television channels from the UK and Ireland, there's been talk of book deals. It seems to be a story that has caught the public imagination.'
Eugene Kelly, Solicitor for Sharon Collins

LUAN 23ú EANÁIR 2012, RTÉ 1 @ 19.30
I samhradh na bliana 2008 d'éist iúiré ag an bPríomh Chúirt Choiriúil le cás scannalach do-chreidte, ar feadh breis agus seacht seachtainí. Bhí an cuma ar Leabhar na Fianaise gur plota scannán Hollywood a bhí ann: bean tarraingteach a bhí rannpháirteach i gcomhcheilg le mangaire pócar Las Vegas - 'hit-man', ina chur síos ar féin, is cosúil - chun fáil réidh lena páirtnéir, a bhí go maith as, agus a bheirt mhac: bhí lámh ag an FBI sa scéal, leanadar conar digiteach fianaise; agus munar leor sin, bhíothas chun leas a bhaint as an nimh is marfaí ar domhan chun an beart a chur i gcrích.
San eagrán seo 'SCANNAL' nochtar scéal Sharon Collins, fionnán seang sna dachadaí as Contae an Chláir ar cuireadh híreáil 'hit-man' ar an idirlíon ina leith chun a céile rachmasach, PJ Howard, agus a bheirt mhac a dhúnmharú. Fán ainm chleite lyingeyes98@yahoo.ie, maíomhtar go ndearna Collins teagmháil le Tony Luciano - nó Essam Eid, mar ab fhearr aithne air, ó www.hitmanforhire.com, a raibh seirfís dúnmharaithe fógartha aige - ar tháille, ar ndóigh.
Níorbh eol do Sharon, ní nach ionadh, gur Éigipteach imeartha pócair i Las Vegas a bhí sa bhfear seo, i ndáiríre, a thóg an suíomh idirlíne sin mar 'scam' dhéanta airgid, seachas chun seirfís 'glanta' a chur ar fáil.
Tar éis €15,000 a fháil mar airgead síos ó Collins, tháinig Eid go hÉirinn lena bhean Theresa Engle i mí Mhéan Fómhair 2006, an nimh mharfach Ricin á n-iompar acu chun PJ Howard agus a bheirt mhac, Robert agus Niall, a dhúnmharú. Ach thit an lug ar an log nuair a rinne Eid iarracht ar €100,000 a fháil ó Robert Howard, tré dhúmhál, chun na dúnmharaithe a chur ar ceal. Chuir Robert fios ar na Gardaí agus gabhadh Eid te bruite. Nochtadh eangach fairsing de bhréaga agus de chur i gcéill. Bhí deireadh le plean Sharon Collins chun seilbh a fháil ar oidhreacht a páirtnéara.
Tionscnaíodh fiosraithe a thug an FBI chun teach Eid i las Vegas a chuardach. Lean na Gardaí rian digiteach ríomhaire Eid a thug chuig Sharon Collins iad. Las an triail suim an phobail, agus thug ar thuras iad tré 44 leathnach de chomhráití ríomhphoist agus glaonna teilefóin idir an bheirt cosantóir. D'aontaigh siad, is cosúil, go marófaí an bheirt mhac le nimh ina dteach tábhairne, agus go gcuirfeadh an t-athair croibhriste lámh ina bhás féin go gairid ina dhiaidh sin. D'fhéadfaí léamh an fhéin-mharaithe a chur ar sonc sa dhroim ó bharr árasán dá chuid ar an Costa del Sol, dar leo. Athghabhadh ríomhphostannaí a scrí Collins chuig an Gerry Ryan Show, comhráití a mhaíomh go ndearna PJ Howard ró-éileamh uirthi chun cleachtaisí neamhghnácha gnéis a sholáthar dó.
Chuir láithreacht agus íomhá siúrálta Sharon, ag freastal ar an bPríomh Chúirt Choiriúil gach lá, le físiúlacht na gcinnlínte nuachta gach tráthnóna. Shéan sí go neamhmbalbh go raibh a lámh siúd taobh thiar de Lying Eyes. In ainneoin brath agus náiriú poiblí, sheas PJ Howard go dílis le Sharon Collins ar feadh na trialach. Ní cheadódh sé riamh focal ina coinne. Fuarthas Collins ciontach i 'hit-man' a mhealladh (cuireadh an breith ina coinne faoi chomhcheilg chun dúnmharaithe ar leataobh in athchomhairc) agus beidh a téarma príosúnachta i Clover Hill istigh roimh dheireadh na bliana. Is iomaí scéal atá ann faoi choimisiún luachmhar leabhar agus scannán. Cá bhfios nach finscéalaíocht shíoraí Hollywood atá in ann do Lying Eyes!
Ina athchoimire ar son an inchúisimh, dúirt Úna Ní Raifeartaigh go raibh, ón dtaobh amuigh, cuma an scéinséara ó pheann Collins féin ar an scéal seo, ach go mba thragóid a bhí ann a ghoill ar chách.
Léiritheoir/Stiúrthóir: Laura Ní Cheallaigh
Láithreoir/Tuairisceoir: Pádraig O Driscoll
'I think Sharon Collins was quite naive in her use of computers, her google searches went out of control and before she could hold back she had suddenly made contact with hitman and it seemed to spiral out of control and there was not turnign back at that point.'
- Emer Connolly, údar 'Lying Eyes'
'Sharon Collins has always been extremely adament that she is innocent of these charges. She from the very beginnning said she had no involvment good, bad or indifferent in conspiring wi th anyone to murder PJ Howard or his sons or to solicit anyone to do so. That is her position now and it was during the trial.'
- Eugene Kelly, aturnae Sharon Collins
'PJ's courtroom kiss shellshocked the court, there was not doubt about that. It was one of the major talking points of the trial. He had so much to say in her defence during his evidence, but it was the action, the kiss that shocked given the strong evidence against her that he was still willing to support her.'
- Emer Connolly, údar 'Lying Eyes'
'There's considerable interest in Sharon Collins story, we have been approached by Producers from America and various television channels from the UK and Ireland, there's been talk of book deals. It seems to be a story that has caught the public imagination.'
- Eugene Kelly, aturnae Sharon Collins