Love Ulster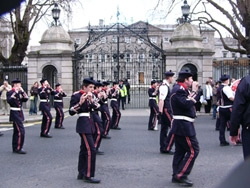 Monday, 17th September, RTÉ One, 7.30pm
This week Scannal looks back on the 2006 'Love Ulster' march, which started peacefully but ended with cars ablaze, shops looted, petrol bombs and running street battles.
The day had started peacefully. A few hundred loyalists, who were part of the "Love Ulster" campaign, arrived from the North on buses and gathered at the top of Parnell Square in the city centre in preparation for an historic march which the blessing of the Government. The planned route was due to bring them down O'Connell Street, past the GPO, across the Liffey and on to Leinster House. "Love Ulster" comprised of protestant victims' groups of the Troubles such as FAIR (Families Acting for Innocent Relatives) as well as members of the loyal orders and other loyalist activists.
Before the march was due to start, protestors had gathered at the top of O'Connell Street blocking the proposed route. Garda attempts to disperse the anti-march protestors sparked a violent reaction. The Garda public order unit was quickly deployed but the violence continued to escalate.
In the aftermath, as the cleanup was still underway - the big question was how could this have been allowed to happen? Minister for Justice - Michael McDowell and the Gardaí came in for criticism for giving the parade the go-ahead and not anticipating the level of violent protest. Various groups from dissident Republicans to disaffected inner-city youths were blamed for starting the violence.
Scannal looks back at the "Love Ulster" Riots with eyewitness accounts from journalists and bystanders who witnessed the mayhem.
Contributions come from journalists Póilín Ní Chiaráín, Colm Ó Mongáin, Michael O'Toole , Sorcha Ní Riada and Dublin-Central TD - Joe Costello.