Scannal - The Littlejohn Brothers: 'Playboy, Tailor, Criminal, Spy...'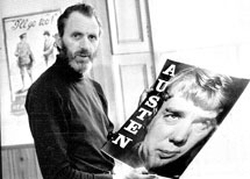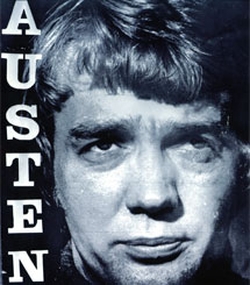 The Leather Hot Pants Factory never quite materialised in Cahirciveen. But back in South Kerry in 1970 the handsome English entrepreneur with the red sportscar cut quite a dash. Kenneth Littlejohn, aka Ken Austen made hay while the sun shone. His particular skills had him scything with equal panache through the dignitaries of the County Development Board and their sportscar-smitten wives and daughters. Quite a man about town. His gravitation towards the fun-loving coterie at the Kerry Aero Club at Farranfore was inevitable. Ken learned to fly, and won the heart of Isolde Liebherr, billionaire heiress of the Liebherr Crane fortune. But with the wife complaining back home and the £40,000 proceeds of an English bank-robbery fast running out, (neither dignitaries, wives, daughters or aviators knew about that), Ken left town in a hurry. Hans Liebherr allowed himself a sigh of relief. Ken may have left, but Kerry hasn't forgotten.

Then Kenneth Littlejohn, ex-paratrooper and inveterate bank-robber got lucky. About this time his younger brother Keith was befriended by no less a personage than Lady Pamela Onslow, a reforming do-gooder who 'adopted' the younger Littlejohn and supported his rehabilitation after a prison sentence. Lady Pamela was well connected. Kenneth seized the opportunity to earn immunity from prosecution for his numerous criminal activities throughout Britain.
Within a matter of weeks, through the good offices of Lady Pamela, Kenneth Littlejohn had persuaded both Junior Minister Geoffrey Johnson-Smith and the MI 6 military intelligence handler John Wyman that his Irish sojourn had fitted him for espionage - he claimed access to Republican circles. Somehow or other he prophesied an attempted assassination of Stormont Minister John Taylor. After Taylor was attacked, Littlejohn's stock rose. The Official IRA bombing of the Parachute Regiment Headquarters at Aldershot - revenge for Bloody Sunday - sealed the matter. Littlejohn was dispatched to the Border area - his mission, to infiltrate the Official IRA. Kenneth Littlejohn, British Special Agent.
Littlejohn's subsequent career, both north and south of the Border smacks both of James Bond and Buster Keaton. He succeeded in infiltrating the Official IRA, became part of their Clogher Head/Rostrevor cell, undertook operations, robbed banks and post offices north and south, all the while becoming increasingly more difficult for MI 6 to control. Now joined by his brother Keith, the Littlejohns spread mayhem and pressure grew on the Irish Government to strengthen anti-IRA legislation.
The Littlejohn robbery of the Grafton St. Branch of the AIB was careless. They netted £67,000 and escaped to England. But MI 6 were about to sell their minions. Back home the brothers were arrested. There were bigger fish to fry. They would be exchanged for two men imprisoned in Ireland whose activities were far more embarrassing than those of the Littlejohns. Special Branch Det. Sgt. Crinnion had been caught red-handed passing top-secret files to the Littlejohn's controller, MI 6 godfather John Wyman. The Littlejohns were exchanged for Wyman and Crinnion, though this, of course, was never officially admitted.
Meanwhile, Jack Lynch suffered a humiliating 'loss of memory' - he denied having been informed by the British authorities that the Littlejohns were agents. The Fine Gael-Labour Coalition published evidence to the contrary and a volte face was forced on Lynch. Farce was added to embarrassment when the Littlejohns escaped in 1974 from Mountjoy, Kenneth giving a wide-ranging interview to the BBC from the extradition-free-zone of Amsterdam, blowing the whistle on his Secret Service handlers. Keith was recaptured quickly, and tiring of the joys of Continental freedom, in 1975 Kenneth Littlejohn gave himself up to police in London and was re-extradited to serve the rest of his sentence in Mountjoy.
From Hot Pants to Hot Shots, the story of the Littlejohns, veering from farce to tragedy and back again, is the subject of this week's 'Scannal', throwing light on one of the most bizarre episodes in contemporary Irish history. Few emerge from this tale of subterfuge and mayhem without serious collateral damage to their reputations.
Research, Script and Reportage: Pat Butler
Producer/Director: Denise Dunne