Katy French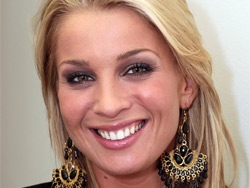 Monday, 25th February, RTÉ One, 7.30pm
"During 2007, Katy French was arguably the most talked about and photographed woman in Ireland. At the beginning of the year she came to public attention in a blaze of scandal and by December that year she was gone. She came out of nowhere, shone brightly for a very short period of time and then died a tragic death."
Anne Sexton, Columnist, 'Hot Press'
With little more than a smile and steely determination Katy French had an extraordinary rise to fame, transforming herself from anonymous Irish model to celebrity in less than a year.
At 24, she collapsed and subsequently died in mysterious circumstances after travelling to a house in Kilmessan, Co. Meath. As Katy lay in a coma, she was the TV news top story and dominated front page coverage on newsstands. This was the kind of fame she probably only dreamed of, yet tragically, she never got to experience it.
Her story has become a morality tale for the dying days of the Celtic Tiger.
"The biggest mistake celebrities make is thinking that they can master the newspapers, that they're in control. They're not. If you put yourself and your personal life out there in front of the cameras, you have to accept that someday a story will come to light that you won't like. You can't do anything about it. That's the way it works. It's a deal.a deal with the devil if you like."
Paul Drury, Former Editor, 'The Irish Mail on Sunday".
In 2007 Katy's star was on the rise. She appeared to be living the Celtic Tiger dream; she was beautiful, successful and lived at the centre Dublin's exciting social circle. Appearances on The Late Late Show, Podge and Rodge and Tubridy Tonight cemented her celebrity status, she was dubbed 'Ireland's Top Model.' But, like most things in life, when you scratch the surface, there's always a dark side. In an interview with a Sunday tabloid newspaper, Katy comes clean about taking cocaine but claims that those days were now long gone.
"She was very pro active in her media. She wanted it. She knew she had a very short time span to break into it but this was her opportunity and she wasn't slowing down, she was really going after it. She was fearless."
Ray Senior, Owner, VIPIreland.com
This episode of SCANNAL looks back at the year that was 2007 and asks does the death of Katy French serve as a reminder of what we became.
"If we don't like celebrity driven culture and we don't like celebrities like Katy French we have to ask ourselves then why do we keep buying newspapers and magazines that feature them."
Anne Sexton, Columnist, 'Hot Press'
Contributors to the programme include Ray Senior, owner of VIPIreland.com, the leading celebrity photo agency on the contrary, Paul Drury former editor of the Irish Mail on Sunday and the Irish Daily Star, broadcaster and journalist Róisín Ní Eadhra, Hot Press columnist Anne Sexton and model Laura Bermingham.
Presenter / Reporter Garry Mac Donncha
Producer / Director Seán Ó Méalóid