Scannal - Granny Gate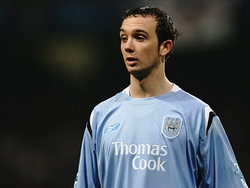 Stephen Ireland playing for Manchester City in 2006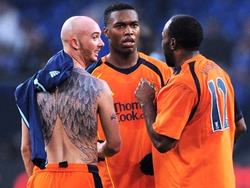 Stephen with team-mates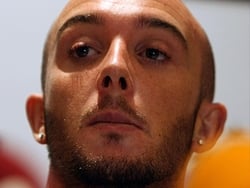 Former Republic of Ireland midfielder Stephen Ireland
In September 2007, the Irish soccer team's slim hopes of qualifying for the 2008 European Championships all but evaporated after a 2-2 draw in Bratislava against Slovakia. The writing was on the wall for manager Steve Staunton, but some young players did well in the qualifiers, none more so than Stephen Ireland, whose scored 4 goals 6 qualifying matches marked him out as a player for the future. Unfortunately, Ireland has never played for his country since.
A story emerged that night in Bratislava that Ireland's maternal grandmother had passed away and he was allowed to go home in a private jet organised by the FAI to grieve with his family. However it emerged that his granny was alive and well and when questioned about this Ireland said that it was his paternal grandmother who had died. This also proved to be a lie. Eventually it emerged that the real reason Ireland wanted to leave the squad was that his girlfriend Jessica had suffered a miscarriage and he wanted to be with her. Why didn't he just tell the truth?
It was thought that Ireland would eventually come back into the Irish set-up but for one reason or another he hasn't. More column inches have been written about Stephen Ireland that any other Irish player in the past 2 years even though he refuses to play for his country and the fact that he was Manchester City's player of the season last year proves that Ireland the team could really do with Ireland the player.
Will he ever come back or does international football really matter that much to the new breed of millionaire footballers? Is it a lack of patriotism on his part or are the FAI and Irish management to blame for his continued absence?
Contributors include former Irish international Ray Houghton, soccer writers Aidan Fitzmaurice and Ciarán Ó Raghallaigh as well as Alan Titley.
Presenter / Reporter Garry Mac Donncha
Producer / Director Kevin Cummins