Scannal - Euro Scannal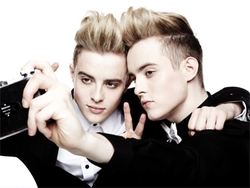 On the eve of Jedward's Euro-Battle on Ireland's behalf at Eurovision in Düsseldorf, SCANNAL takes a long, hard and illuminating look at Eurovisions's scandals through the decades - from Sandie Shaw's 1967 sex scandal which almost derailed her victory for the UK to the more recent outrages of Lordi's heavy metal mayhem, Lena Mejer's sex tape and the Euro-ballad that ignited a democratic revolution.
The programme also casts a jaundiced eye on Ireland's own copycat controversies, and the attempts to come up with an Irish language Euro-entry. But perhaps the biggest Euro-Turkey of them all - sending Dustin to Eurovision.
The Eurovision song contest has come a long way since its conservative origins in 1956. Wildly entertaining, bizarre, divisive and sometimes offensive, the contest, originally set up to bring Europeans together is now almost as famous for its scandals as the quality of its songs.
Euro-Contributors include, Shay Healy, Scott de Buitleir, Bernie Ni Flatharta, Fiachna O' Braonain and Marc Roberts as well as Dustin himself, amongst others.
follow us on twitter @RTE_Scannal