Scannal! - Triple Murder at Cregg Wood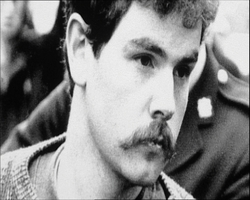 Brendan O Donnell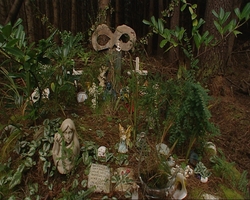 Site at Cregg Wood where Imelda & Liam Rinney & Fr Joe Walsh's bodies were found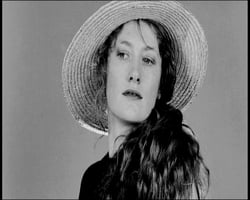 Imelda Riney
Artist Imelda Riney and her four year old son Liam go missing from their cottage in the woods near Whitegate in Co.Clare in late April 1994. The local postwoman is the last to see Imelda and Liam alive, as they drive through the village on Friday 29th. Imelda looks disturbed. There's a passenger in the back of the car; Brendan O'Donnell.
Val Ballance, Imelda's estranged husband, visiting the family at the time, discovers the house deserted at tea-time. His early concern becomes plain terror over the weekend as he desperately rings round searching for them, to no avail. Once word is out that Imelda and her son are missing, the community, local and alternative newcomers alike, in Whitegate, Mountshannon and Scariff are alarmed. The name on everyone's lips - Brendan O'Donnell.
Thus began an eight-day saga of fear, terror and eventual despair as the bodies of Imelda and Liam, and that of neighbouring curate Fr. Joe Walsh are discovered in the foreboding darkness of Cregg Wood. Brendan O'Donnell is eventually captured on Saturday May 8th . He'd abducted another young woman and was leading armed Gardaí on a wild-west style cross-country chase. His arrest ended the most horrific serial killing in the history of the State.
Brendan O'Donnell was found sane & convicted of the three murders and received multiple life sentences. Having served barely a year in the custody of the Central Mental Hospital, Brendan O'Donnell was himself dead. An Inquest found the cause of death to be an overdose of prescribed anti-psychotic drugs. There was no further Inquiry. The communities in East Clare breathed a sigh of relief. Now, for sure, he would never be back. Finally it was all over.
'Scannal' re-visits the story that shocked the nation and to this day there are many aspects of the story that continue to disturb. Who was Brendan O'Donnell? Why did he do what he did? Why did it take so long for the missing mother and child to be found ? and could the priest's life have been saved?
Could something like this ever happen again ?

Presenter/Reporter Pat Butler
Producer/Director Niamh Ní Churnáin