Scannal! All that glitters - The Cian O'Connor Scandal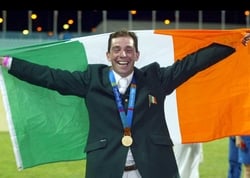 Cian O'Connor
"Gold, gold, gold at last for Ireland, let us rejoice" exclaims RTÉ Sports presenter Tom McGurk at the end of a riveting day of show jumping in Athens. The disappointing run of poor performances from the Irish team at the 2004 Olympic Games came to a dramatic end when show jumper, Cian O'Connor, riding Waterford Crystal won gold for Ireland in a nail biting competition. There was an outpouring of pride as the tricolour was raised and the national anthem filled the Marco Polo show jumping arena in Athens. Little did we know that the laurel wreath placed on the young show jumpers head would very soon turn into a crown of thorns.
The dramatic rise of our new sporting hero dominated the press after that humid August night in Athens. But his dramatic fall would also make the headlines, but this time for all the wrong reasons. The news that Cian O'Connor's horse had failed a drugs test came as a bolt out of the blue for many but not as a great surprise for some.
Rumours had been circulating from an early stage that it was possible that Waterford Crystal would fail a doping test. But as people were trying to come to terms with the dramatic news, it then emerged that another of his horses, ABC Landliebe had failed a doping test earlier in the same year at a competition in Rome.
It became a story of shock and disappointment, of intrigue and suspicion. A crucial urine sample was stolen, the offices of the Equestrian Federation of Ireland were broken into and files relating to Cian O'Connor's horse were faxed to the RTÉ Newsroom. The fallout would lead to a deep division & reveal the murky underbelly of the show jumping world. Riders refused to ride on certain teams, official resigned, threats, rows and intimidation. All a far cry from what was always understood to be a gentleman's sport.
Produced and presented by Padraig Ó Driscoll