Scannal! Cabin Fever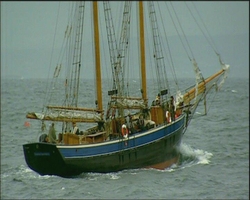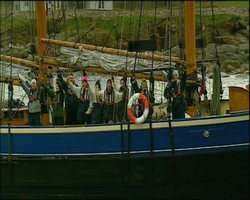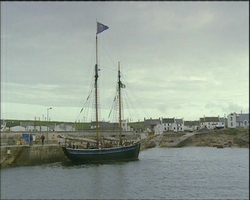 Launched with the sort of hype specially reserved for reality TV shows, 'Cabin Fever', RTÉ's planned summer schedule blockbuster from 2003 hit all the right spots, and at least one that didn't figure in the plans. None of your set/studio-based cheapo series this - the makers created a reality programme formula guaranteed to captivate the fickle summer audiences. Yes indeed, competing for a prize of €100,000, ten diverse landlubber contestants would shiver our timbers as they ploughed their way round Ireland on a three-mast sail ship, 'Cabin Fever', performing various tasks and hoping to win the votes of the audience. The least popular contestant ran the weekly gauntlet of ritual eviction from the game by walking the plank.
This reality show had it all - a beautiful photogenic ship, outdoor action, on-board intrigue, a live show hosted from various ports round the country, a free-wheeling, action-packed adventure. But it also had an unscheduled date with the rocks off Tory Island. 'Cabin Fever' put the 'reality' into Reality TV, sinking on the notorious outcrops which encircle the Gaeltacht island. Crew and contestants all made it safely to shore.
The International press had a field day. Paparazzi descended on Tory Island. With the ten contestants bunking down inside, Noelle Ní Dhubhchoin's B&B became the centre of a tabloid media stake-out. A celebrity lawyer, a counsellor and the man from the Dept. of the Marine all flew in by helicopter. Tory had never seen anything like it. The contestants were sent home and the programme makers endeavoured to find a replacement ship to continue the series.Within weeks, 'Cabin Fever 2' picked up where its predecessor had left off. It was 'game on' again.
Few reality TV shows had overcome such difficulty, or generated such publicity. If 'Cabin Fever' had done well in the ratings prior to Tory, it skyrocketed after.
'Scannal' re-visits the story, exploring what happened from a range of perspectives. Winner Elaine Power demonstrates how she has lost none of her volubility or entertainment value in the intervening years, 'Daily Mirror' journalist Michelle Nic Pháidín recalls her sojourn on Tory, Deirbhile Ní Churraighín, herself a reality-show contestant, now TG4 TV Executive, casts a wry eye on the entire episode, RnaG stalwarths Rónán Mac Aodha Bhui and Conal Ó Dubhthaigh re-live their witnessing the story 'live-on-air' as it occurred, and the inimitible Patsy Dan Mac Ruairí, the King of Tory, recalls the day that lives vividly in the minds of the people of Tory.
Presenter/Reporter Pat Butler
Producer/Director Sonia Nic Giolla Easbuig