Scannal! - Barbara Streisland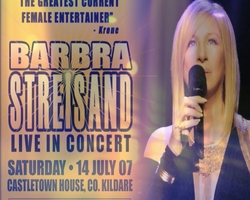 Poster for Concert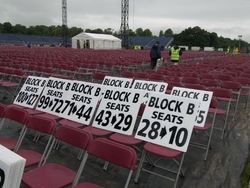 Seating arrangements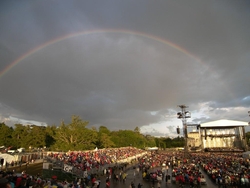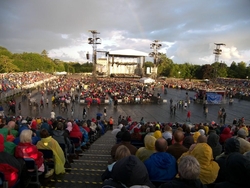 Barbra Streisand, the queen of divas was finally coming to town. Her promotion team declared her tour "a momentous occasion that ranks up there with seeing Sinatra or Elvis". Her die hard fans were more than willing to pay up to €500 a ticket. Their dream of seeing their idol performing on Irish soil was finally about to be realised. The fairytale setting of Castletown House would make that dream complete. Nothing was going to rain on their parade. But rain it did. In fact it had been raining non-stop for over forty days before the concert. The Summer 2007 did not spare Castletown House a thorough lashing of the elements. As the date of the concert drew nigh, the verdant grounds of Castletown were slowly turning into a mud bath.
Initially for most concert goers the main concern was what to wear. For many, formal dress was what was required for a stylish event of this nature and no amount of bad weather would persuade them otherwise.
However for many concert goers how to get to the event became a much bigger concern as large numbers of fans were stranded in their cars in not so funny girl style gridlock, some abandoned their vehicles on the nearby motorway to rush to the concert on foot. When they did make it to the venue some found their seats had been taken by others, who in turn refused to move.
"When it got bad we were instructed to let them sit anywhere, the anger just grew and grew." - Roisín Coffey, Concert steward
Aggrieved fans could not find stewards to intercede. The Manolo Blahniks were no match for the muck and the plastic ground sheeting.
"I was pushed; I landed in the muck; I was covered from head to toe."
Jean Kilgannon
As tempers flared, Ms. Streisand postponed the start for almost an hour. Some concert goers still missed the beginning of her performance and many others were so frustrated and annoyed they left the concert early.
"It's not nice at my age to be sitting on a metal bar, we left at half time and trundled out through the muck" - Paddy Cullen, former Dublin footballer
For most, trying to leave the grounds became the final nightmare. They struggled to find their cars in poorly lit fields; many got stuck in the muck; and having finally found their cars they faced a seemingly interminable delay before they exited the venue.The public reaction was swift and furious. RTÉ Radio One's Liveline programme was inundated with angry callers criticising the event organisers, MCD, for the chaos.
"We felt ripped off; it was worse than some barn dances I've been at." Patsy Nealon
MCD blamed the weather, road-works and some opportunistic fans. But as the complaints grew ever louder a special committee, chaired by former Garda Commissioner Pat Byrne, was established to examine the problems. MCD accepted the report's recommendations and most of the aggrieved fans received compensation but, for many, no amount of money could recompense them for the once in a lifetime opportunity that went horribly wrong.
"Was that was the moment the Celtic tiger stopped roaring, the moment the whole edifice began to come crumbling down?" Evelyn O'Rourke, Broadcaster