Scannal - A Wilde Affair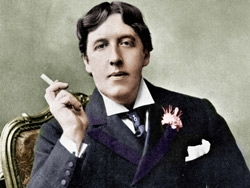 Oscar Wilde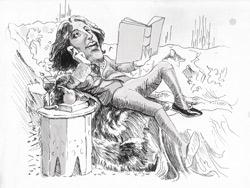 Monday, 30th January, RTÉ One, 7.30pm

Scannal looks back on perhaps the greatest Gay Sex Scandal of the 19th Century - the infamous trials and tribulations of one of Ireland's greatest writers - Oscar Wilde.
One of the most brilliant, celebrated and versatile writers of his age. His meteoric rise to success as a literary and social figure was followed by an equally sudden fall into public disgrace, poverty and exile: 12 years after publishing his first work of fiction in 1888, he was dead at the age of 46, buried in a pauper's grave on the outskirts of Paris. At the height of his career he was to discover that admiration was not the same as acceptance.
It was the summer of 1891 when Oscar Wilde first met Lord Alfred "Bosie" Douglas, the young Oxford undergraduate with whom he would develop a passionate and ultimately destructive affair. Homosexual men of Wilde's era were running a great risk: sex between men was a criminal offence and punishable by imprisonment. But when Bosie's father, the Marquess of Queensberry, began to publicly harass and humiliate Wilde for his homosexuality, Oscar made the dangerous decision to sue for libel.
"Wilde talks of his appetite for affairs with young male prostitutes as 'feasting with panthers', a wonderful phrase he used to express his dangerous desires."

Dr.Noreen Doody, Head of English Dept., St Patrick's College, Drumcondra
In suing Queensberry, Wilde must have been aware that he would have to defend in court his relationship with Bosie, Queensberry's son and possibly also his public behaviour and published works; but he could not have anticipated the explosive evidence which the Marquess's lawyers would produce about his covert sex life.

"He really did believe that he had the wit, the charm, the elegance, the intelligence to get away with it and he didn't, he was crucified upon his own scandal."

Alan Stanford - Actor, Writer Director
Oscar Wilde's trial gripped the nation, the subject matter a source of intense gossip and speculation. His Life was turbulent and volatile - never short of incident. It reflected his own inner paradoxes and revolutionary views. In some ways he was both saint and sinner.
Wilde's tragic end did not extinguish his legacy. In fact, it is safe to say that his words and aphorisms have graced more greeting cards and quote books than any other author - all testament to the prominent place Wilde holds in our cultural landscape to this day.
Produced and Directed by Diarmuid Goggins
Reporter : Bláthnaid Ní Chofaigh
Narator: Pat Butler