Scannal - The Anabel's Case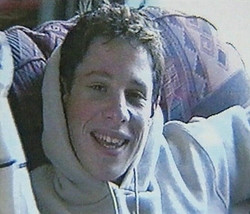 Brian Murphy
At 3.30 in the morning on the 31st of August 2000, eighteen year old Brian Murphy died after being attacked by a group of young men outside Anabel's nightclub in Ballsbridge, Dublin.
During the fracas Brian Murphy was seen falling to the ground, surrounded by a group of young men who were hitting and kicking him.
From the beginning, there was huge media interest in the case because those involved came from a background of private rugby playing schools. It was suggested that the fight which led to Brian Murphy's death was related to inter-school rugby rivalries. It was clear also that there was a lot of alcohol involved, and that such violent incidents were a regular occurrence.
Despite the presence of hundreds of revellers outside the nightclub that night, the Garda investigation was severely hampered by a lack of clear eyewitness evidence. Some of those who kicked Brian Murphy on the ground were never identified.
Of the four young men who were charged with the manslaughter of Brian Murphy, only one of them, Dermot Laide, who had voluntarily come forward to the Gardaí, was found guilty. Two others were convicted of violent disorder, and a fourth was found innocent of all charges. However Dermot Laide's manslaughter conviction was later overturned on appeal so that in the end, nobody went to jail for killing Brian Murphy.
Scannal, looks back at a case that dominated the headlines and asks if that media interest was justified. Did the culture of private rugby playing schools played a part in the death of Brian Murphy? Was the lack of eyewitness evidence due to a closing of ranks among young men and women from Dublin's leafier suburbs? Did the justice system itself fail the Murphy family and has Irish society learned anything from the case about the issues of alcohol abuse and aggression in our young men?
Producer-Director: Seán Ó Méalóid
Presenter-Reporter: Fachtna Ó Drisceoil