Scannal: Named and Shamed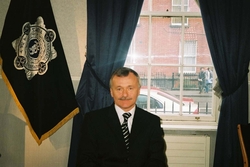 Detective Inspector Michael O'Connell, Garda Síochána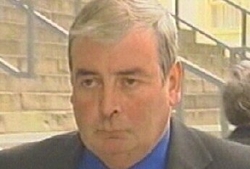 Brian Curtin
As dawn broke on the morning of the 27th May 2002 over 500 Gardaí set off from different locations all over Ireland to in one of the biggest searches of homes and businesses the force had ever undertaken. It was one of the best kept secrets in recent history. This wasn't a swoop for drugs or arms but for evidence of the downloading of child pornography. By the end of the day the lives of over 100 people and those of their friends and family would be changed forever. The results of the search would send shockwaves throughout the country. Most of those whose homes raided in Operation Amethyst had never before come to the attention of the Gardaí but very soon their names would make front page headlines.
Those targeted by Gardaí included solicitors, a schoolteacher, an ex-priest, a choirmaster and a man with strong political ambitions, however its was the names of celebrity chef Tim Allen and circuit court judge, Brian Curtin that would transfix the nation.
As news of the raid broke, celebrity chef, Darina Allen took to the airwaves to describe the family's trauma. Her husband Tim strenuously denied the charges only to later dramatically change his plea on the day of the court hearing. But would his €40,000 contribution to a Calcutta based children's charity along with his sentence of 240 hours community service be enough to quell local anger and safeguard the future of the Ballymaloe Empire?
Judge Brian Curtin strenuously denied the charges from the outset. The case against him dramatically collapsed when it was discovered that the warrant used to search his house was out of date and invalid at the time of the Garda search. He left the court amid a media scrum an innocent man. But his case posed a huge dilemma for the Government. Calls for his impeachment would see the case being fought in the High Court, the Supreme Court and onto the floor of Dáil Éireann.
"There was noting organic or natural about what Tim Allen was accused of.."
Gret O'Connor Reporter RTÉ News
"There was a strange atmosphere in court when Judge Brian Curtin came into court and sat down among the drunk drivers and public order offenders."
Anne Lucey, Journalist
".any type of people, every type of people are involved in this activity"
Detective Inspector Michael O'Connell, Garda Síochána
"As the evidence unfolded . I began to realise that yes Darina did know what this was all about despite her appeal for public support on Liveline."
Anne Mooney, Reporter Irish Daily Mail
Producer : Denise Dunne
Reporter: Padraig O'Driscoll