Scannal: The Angel of Death?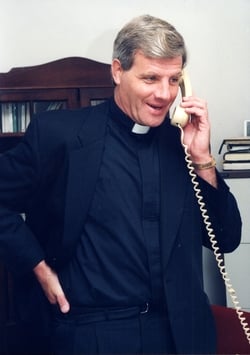 Fr Michael Kennedy
Sunday September 10th 1995, Fr Michael Kennedy gave a sermon in Dungarvan parish church which shocked the nation, and drew the world's media to the Waterford town.
He told his stunned congregation that a local woman infected with AIDS had deliberately slept with up to 80 men with the intention of spreading the disease, and that at least five men had already tested positive.
John Murphy, a journalist with the Cork Examiner who was in the congregation that Sunday, realized instantly that this would be one of the biggest stories of his career: "It was sensational. He was saying in effect, that there was a killer on the loose."
Within a day British tabloids were offering up to £10,000 for the identity of the "Angel of Death" as she was dubbed, and local doctors were inundated with young men seeking AIDS tests. For the media, the fact that Fr Kennedy was related to the Kennedy clan in America and bore a strong resemblance to President John F Kennedy added extra spice to the story. He was also a former poll-topping Sinn Féin councillor, and Leinster Final winning hurler for Offaly.
Fr Kennedy refused to reveal the identity of the AIDS-infected woman, or of any of the men involved, even to local Health Board Officials, citing his duty of confidentiality. As the week went on sensation turned to scepticism, and the story faded from the headlines, with many questions left unanswered to this day.
Scannal! returns to Dungarvan to investigate the story of the "Angel of Death". What effect did the scare have on the town of Dungarvan, what does the story tell us about Ireland in 1995? And did the "Angel of Death" ever really exist?
Reporting and Production: Fachtna Ó Drisceoil
Producer/Director: Kevin Cummins