In the Name of the Father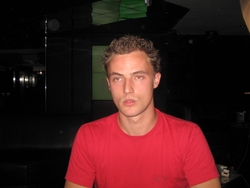 Ross Hamilton
For nearly thirty years Father Michael Cleary led to an extraordinary double life. In public he was one of the most popular faces of the church and a regular guest on the Late Late Show whenever there was a debate about religious matters. He even entertained the crowd at Galway before the Pope's visit to Ballybrit in 1979.
In private, however, he fathered two children with his housekeeper Phyllis Hamilton with whom he had a relationship for twenty six years. Their first child was given up for adoption, while their second son, Ross Hamilton, lived in the house with Phyllis and Fr. Cleary. From the outside it looked like the 3 lived together as Priest, housekeeper and housekeeper's son for nearly 15 years, but the truth was a lot different.
Michael Cleary and Bishop Eamonn Casey had been close friends for many years and when news broke of the relationship between Casey and Annie Murphy in 1992, Cleary was devastated. Casey had known about Cleary's relationship with Phyllis Hamilton, but Cleary was completely unaware that Casey had also fathered a child, and felt a bit betrayed. Phyllis Hamilton felt that they were next for exposure.
Cleary died of cancer on New Year's Eve 1993 and 2 weeks later rumours about his secret son appeared in Phoenix magazine.
Phyllis decided to write a book to tell her side of the story. The details of 'Secret Love' shocked a lot of people who had held Cleary in high esteem, and his own family said that Phyllis wasn't telling the truth.
A few years later however, DNA tests categorically proved that Ross Hamilton was Fr. Michael Cleary's son. The truth was finally revealed.
Tragically, Phyllis Hamilton died of cancer in 2001.
Scannal looks back at this amazing story which spanned throughout a changing time socially in Ireland. We look at Phyllis Hamilton's early years which were spent in institutions and talk about her sometimes tempestuous relationship with Cleary.
Interviewees include Ross Hamilton who talks openly for the first time about the relationship he had with his father and the difficulties faced by himself and his mother once the story became public knowledge.
Dr Ivor Browne who was a close personal friend of Phyllis and of Cleary talks about how he asked the priest to end the relationship.
Also featured are interesting archive clips including, Cleary in Galway with Bishop Eamon Casey as the Pope arrived in 1979, The Rocky Road to Dublin, Phyllis Hamilton and Ross Hamilton on Kenny Live and a clip from the last television interview given by Cleary before he died.
Producer / Director: Kevin Burns
Presenter / Reporter: Garry Mac Donncha