Patrick Gallagher - The Great Escape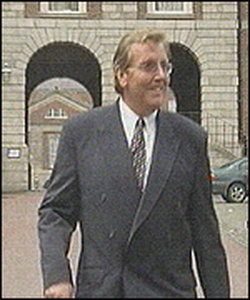 Patrick Gallagher
They called him 'the man with the Midas Touch'. The builder and merchant banker who turned property opportunities into gold. A man of style, of panache, of unbridled charm. Doyen of the property press, Patrick Gallagher bestrode the 1970's Irish property investment community like a colossus.
Inheriting the Gallagher Group when his father Matt died in 1975, Patrick Gallagher became the entrepreneurial icon of the 70's. He had made his own first million within 12 months, and stunned the property establishment in 1979 by making a cool £2m with a single property deal on St. Stephens Green, having bought and sold-on the property in a matter of hours.
His extravagant lifestyle was legendary - Gallagher bought Straffan House, latterly the K-Club, and made it his family home in 1979. Swanning about in a fleet of Bentleys and Rolls Royces, Gallagher lived the life of a playboy. Perhaps his most famous racehouse was 'Arkadina', for which he paid £1m, having outbid the Aga Khan at auction!
When the Gallagher Group turned belly-up in 1982, with the loss of some £30m, Gallagher's fall from grace hurt lots of small investors whose £5.5m on deposit with his Merchant Banking Limited had been used by Gallagher to feather his own nest and bail out his tottering business empire. A similar misappropriation of funds in Merchant Banking Northern Ireland Ltd. was to earn him a two year sentence in Magilligan Prison. Yet Gallagher never faced prosecution in the Republic.
The Gallagher family was not just rich, it was well-connected. Old Matt Gallagher, the founding father, was a major Fianna Fáil benefactor. Charles Haughey was a family friend. Gallagher admitted to the Moriarty tribunal in 1999 that he gave £300,000 to help clear Charles Haughey's AIB bank debts upon his election to the leadership of Fianna Fáil in 1979.
Haughey was Taoiseach when the Gallagher Group collapsed.
Produced and presented by Pat Butler