Telecom Eireann - The Share Scandal of 1999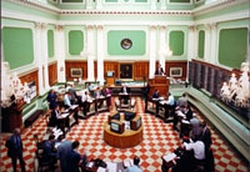 It was to be the Sale of the Century - Bonanza Time. A New Shareholding Democracy! The Telecom Eireann Share Scandal of 1999
In 1999, after many years of heated debate, Telecom Éireann was finally being sold off. The ordinary people of Ireland were to be given a golden opportunity to share in the economic boom.
Overnight they would be catapulted into the frantic world of the stock market. People who had never bought a share in their lives were going to make a killing. This was touted as a 'sure fire' thing and a nest egg for many in later life. A new shareholding democracy!
The PR machinery went into overdrive. Glossy ads beamed down on us night and day to the tribal rhythm of Dúlamán, enticing us to take ownership of our birthright and shares in our national telecommunications system, Telecom Éireann.
Many people fell under the spell of the Dúlamán, over a half a million in fact. But even then, they had to apply in advance and hope that they would get the right to buy shares, while still ignorant of the price!
The much anticipated flotation day finally arrived on 9th July, 1999. Mary O'Rourke - then Minister for Public Enterprise, Charlie McCreevey - then Minister for Finance, Taoiseach, Bertie Ahern and Telecom CEO, Alfie Kane revealed the share price - €3.90 per share.

Only one in ten of the almost 600,000 new shareholders sold their shares for a quick profit. Most people were in for the long haul. Flotation fever turned to mild concern when the share price reflected market unease and began to trend downwards.
But the message from above was quite clear: 'don't panic. Everything will be all right.' The Government gave the added incentive of an end-of-year share bonus if people held on till then - and that's what most of them did.
But the share price continued to go in one direction only and that was down. Disbelief turned to anger as it emerged that executives and company directors had received huge bonuses and stock options on foot of the flotation.
Senator Shane Ross and broadcaster Eamon Dunphy took up the fight. Angry shareholders beseiged the board of directors for hours at the company's first AGM. Anger turned to fury when former Tánaiste, Dick Spring explained he didn't have the cash to buy shares, when he was invited to join the board as a director. People felt they had been made fools of.
The sorry tale went from bad to worse. Eircell, the most profitable wing of the company was sold off to Vodafone and a battle royal between Denis O'Brien and Tony O'Reilly began to take over the rest of the company. It was the employees with a blocking share who chose O'Reilly's consortium, Valentia, because they offered them the best deal - doubling the workers' shareholding in a very lucrative tax-efficient way.
Within three years of being floated, the company was taken private and the small share holders compulsorily paid off. The dream had died.
Most investors lost almost 36% of their original investment. Once bitten, twice shy: many were determined never to purchase another share in any business, ever again.
Scannal - 'Eircom - Did You Get Burned?' was produced by Kevin Cummins. The reporter was Padraig O' Drisceoil