Chairgate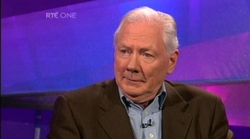 Gay Byrne
May 1997, Joshua Duffy is stunned as he watches the Late Late Show - "Isn't that a little beauty." says Gay, ".it's a beautiful chair, a lovely comfortable chair" Each compliment is another blow to Joshua...
Standing beside Gay, Siubhan Maloney beams with pride as she carries off the winners' prize for the antiques competition. To his horror Joshua realises not only he, but Gay, RTÉ and the Irish viewing public have been duped by the Donegal beauty.
Claims and counter-claims were to follow - Siubhan said the chair was the fruit of her own labour - Joshua said he did the lion's share of the work on condition he would be credited with the work on the Late Late Show. The row raged on as a furious Siubhan accused Joshua of being a "consummate liar", provoking legal action as the renowned antiques restorer stood by his claim. A media frenzy ensued as journalists attempted to uncover the true identity of the chair restorer. The story hit national headlines.
What started out as an innocent item on the Late Late Show soon turned into a story of intrigue, deceipt and hatred with reputations and personal honour at stake.
This Scannal! was produced by Karen Rodgers for RTÉ Television. The reporter was Padraig O'Driscoll.