The Rise and Fall of Eamonn Casey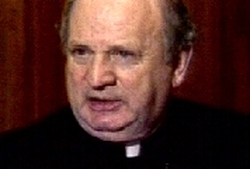 Eamonn Casey
Eamonn Casey declared himself 'the Bishop of Galway, Killmacduagh and Kilfenora' to the hundreds of thousands of young people gathered to welcome John Paul II to Ballybrit Racecourse in Galway in 1979. By the time the Pope arrived in Ireland, this particular bishop was already the stuff of legend.
Folk songs had been written about his cavalier driving and his fondness for the high life -
'Casey, Casey, you're the divil, when you sit behind the wheel,
Twas a sad day for the Kerry sheepdogs
When your Firestones they did feel'!

'Casey', this week's documentary in the 'Scannal' series, is the first television exploration of the bishop whose affair with Annie Murphy shook the Irish Catholic Church to its very foundations.
Bishop Eamonn Casey is 78 years old, and works as a low-key curate in the south of England. His son Peter, and his former lover, Annie Murphy, are no longer the stuff of headlines. All three, in 1992, were the talk of the country. The first, but by no means the worst sex scandal to rock the Irish Catholic Church in the 1990's, Eamonn Casey's fall from grace seems almost nostalgic from this remove.
It was a defining moment in contemporary church and social history.
If his ebullient personality was larger than life, was that not a welcome change? There had never been a Bishop like him.
Man of the people. Media darling. One of our own.
Casey's rise to stardom had been meteoric. His work among Irish emigrants in England earned him wide-ranging respect and eventually the Bishopric of Kerry. The thriving dioceses of Galway came next. Among the Hierarchy Eamonn Casey's star shone brightest. A man for his time. A man, it seemed, for all seasons.
Lavishly studded with gems quarried from archive reaching back to the beginning of his career, 'Casey' explores the man himself and the scandal that transfixed the nation.
Origination, Script and Reportage Pat Butler
Producer/Director Seán Ó Cualáin