The Rose Tattoo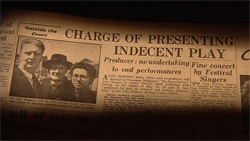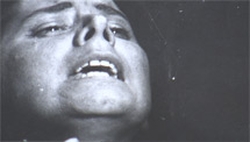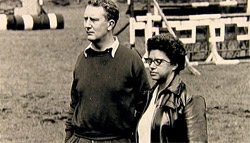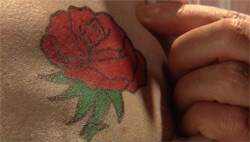 There have been few occasions when a stage play has caused a scandal on this scale and with the longevity that was sparked by The Pike's production of The Rose Tattoo by Tennessee Williams in May 1957. The controversy came out of the blue and made headlines right throughout 1957 and it has never quite gone away.
The opening play of the first ever Dublin International Theatre Festival - The Rose Tattoo was staged at The Pike - a tiny avante garde theatre with a formidable international record of firsts including Beckett & Behan . The Co-owners of the Pike and Co-producers of the play - Alan Simpson and Caroln Swift had never experienced the drama and trauma of what was to be visited on them.
In the middle of a hugely successful run - Simpson was warned by the Gardaí he had to take off the play or be arrested - two days later he was arrested, held overnight in the Bridewell and charged with staging an indecent & profane performance for profit - thus began what would be a year long legal battle that went down in Irish theatrical history.
Scannal looks back at THE ROSE TATTOO, shorthand for a grim 1950's Ireland that was censorious, narrow minded and church dominated but what's the truth of what actually happened in those heady days of May 1957 ? Why did the State move against Simpson and why did it take until the year 2000 for the State Papers on this case to be released?