The killing of Anne and Annie Gillespie by John Gallagher - Sligo General Hospital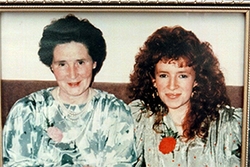 Scannal revisits the shooting of widowed mother Annie Gillespie and her only daughter Anne by the daughter's ex-boyfriend, John Gallagher in Sligo General Hospital's car-park. Anne Gillespie from Ballybofey had ended her three year relationship with Lifford man John Gallagher. Unhappy with her decision, Gallagher's behaviour became increasingly erratic in the weeks leading up to her death. Anne and Annie were in fear for their safety and Anne had confided in a teacher "If I don't have police protection by this time next week you'll be singing at my funeral." These words would prove chilling and prophetic.
On the 18th September 1988, John Gallagher followed Anne and her family to Sligo General Hospital and waited in the car-park until they finished their visit to her grandmother. On returning to the car with her mother, uncle, aunts and cousins, Gallagher, with his father's rifle, opened fire killing both Anne and her mother. Gallagher then drove to outside Ballyshannon in Co. Donegal and attempted to take his own life by driving his vehicle off a pier into the water. Gallagher's life was saved by the Gardai and he later admitted to both killings. In spite of there being no doubt that John Gallagher killed these women, he never has and never will hold a criminal conviction for their killings.
" Some people said it was a tale of love gone wrong. I wouldn't call it love, I'd describe it as jealousy and obsession you cannot describe something that destroys lives - love" - Áine Ní Chiaráin journalist.
In his trial in 1989 Gallagher pleaded guilty but insane. The trial lasted seven days with Gallagher's defence team led by Mr Patrick MacEntee SC. Gallagher was found guilty of two counts of murder but found to be insane at the time of the killings. He was placed in the Dublin Central Mental Hospital. Three months later he appealed for his release on the grounds that he was now sane. His appeal for release caused a major legal battle between the judicial system and the government regarding who had the responsibility to grant his future release. After several attempts at appeal Gallagher was denied release but was offered vocational training and day release.
As the Central Mental Hospital didn't see John Gallagher as a danger, he was allowed to take up a job in the Celtic Glass Factory in Stillorgan. He was earning £300 per week and managed to buy himself a motorbike. In 2000, whilst on day release, Gallagher went AWOL and absconded to England. Every journalist in the country was searching for him. However, in need of money, he contacted News of The World journalist Christian MacCashin in an attempt to sell his story for £12,000, a thousand for every year he'd been detained. The News of The World agreed to meet with him but tipped off the British Police who nabbed him during his interview with Christian in a carpark in Oxford. However, the British Police were unable to detain him as he was not a criminal. A British psychiatrist assessed him and found him to be sane so he was now free to live in the UK and Northern Ireland. If he returned to the Republic he risked being apprehended and returned to the Central Mental Hospital.
" I thought the law of guilty but insane was bizarre because you didn't actually have a conviction. How can someone be found guilty but not have have a conviction?" - Christian MacCashin journalist (formerly NOTW)
About three years later he moved back to Strabane within a stone's throw of his hometown of Lifford in County Donegal.
" His move back to Strabane disgusted alot of people in the area particularly the family and friends of Anne and Annie Gillespie, they were afraid they could bump him any time. It instilled fear in the Gillespie family and community." - Áine Ní Bhreasláin
In 2012, twelve years after Gallagher had absconded Barry Cummins did a feature for Prime Time entitled On the Run. He called to John Gallagher's home with a letter asking to interview him. Gallagher ripped it up saying he had no obligations to return to the Republic and was a free man.
The following month, John Gallagher handed himself back in to Dublin Central Mental Hospital.
Within weeks John Gallagher was released on a number of conditions. He was allowed to visit his mother in Lifford and his father's grave but banned from having any contact with members of the Gillespie family for the following twelve months.
" The case is unique, and it is very tragic. Two entirely innocent women died, shot dead at point blank range. We must never forget that."
Barry Cummins , Primetime.
John Gallagher remains unconvicted of any offence to do with the deaths of Anne and Annie Gillespie. He has rebuilt his life and still lives in Strabane.
For Anne and Annie Gillespie there could be no second chance.
" If Anne Gillespie had survived she'd be about 46 years old now, chance that she'd be married with a family living in the Ballybofey area or elsewhere. She had so many opportunities ahead she was a young beautiful, clever, talented girl with a bright future. " - Áine Ní Bhreasláin. RnaG