Rising After Redundancy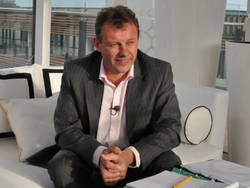 Thousands of people in Ireland are trying to cope with life after redundancy. But what seems to be missing from all of the doom and gloom are any solutions for a new way forward.
Last August a group of unemployed people decided to take a different path and sign up to a six month project which they hope will find them new jobs, new careers and ultimately new lives.
They've been working with career coach John Fitzgerald who offers a radical approach to life after redundancy.
John runs a career coaching and mentoring business and he and his team are going into firms where people are being laid off and asking them three things;
1. What are you passionate about?
2. What can you be the best at?
3. Where can you add value?
Over the last 6 months RTÉ has filmed John working with six very different people - all of whom have been recently made redundant.
The result has been honest, inspiring television which will help viewers see there may be a way out of redundancy and recession.
From Barney who spent over 30 years as a fitter and was made redundant from SR Technix last year to Polish national Patricia who came to Ireland in the boom years and now can't find a job. From entrepreneur Noel who ran his own business and now could face losing his house to James who spent years in sales and marketing and just doesn't know what to do next. And Breid who's the wrong side of 50 and hasn't had one reply to the hundreds of CVs she's posted out.
All of the participants are desperate for work and change. But John's process isn't a quick fix and for some of them, it proves an emotional roller coaster. Change is never easy and over the course of the six months they realise they have to delve deep into themselves to discover what they really want out of life. Rising after Redundancy captures the zeitgeist - it's time to wrestle back control of our own lives and find a new positive way forward.