Christmas Religious Programmes on RTÉ Television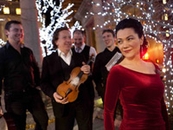 RTÉ Religious Programmes offer a beautiful mix of Christmas output to bring comfort and joy throughout the Christmas season.
On RTÉ One...
Sunday 23rd December
11:15am Service
The Rev. Brian Griffin leads members of North Tipperary Methodist Church in a celebration of the Fourth Sunday of Advent.
Christmas Eve
6.15pm Carols from the Castle.
Mary Kennedy presents a rich variety of Christmas music and features from Dublin Castle, with guests including Sinead O'Connor; Coronas' leadsinger Danny O'Reilly; De Dannan; Voice of Ireland winner, Pat Byrne; TeenSpirit; Waterford City Brass and the RTÉ Concert Orchestra.
11.15pm Midnight Mass from Laurel Lodge, Castleknock, Co Dublin. Simulcast on RTÉ Radio 1.
Christmas Day
10:15am A Service for Christmas Day with staff and students of Kings Hospital school, Palmerstown, Dublin.
11.00am Urbi et Orbi.
Live coverage of the Pope's Christmas Message from St Peter's in Rome, with commentary by Fr Thomas McCarthy, O.P.
11.30am Mass for Christmas Day from Laurel Lodge, Castleknock, Co. Dublin.
12.25pm A Christmas Message from The Archbishops of Armagh.
His Eminence Cardinal Séan Brady and the Most Rev. Richard Clarke, the newly enthroned Church of Ireland
Primate and Archbishop of Armagh, share their thoughts and prayers for the Christmas season.
Sunday 30th December
At 11.05am, the Rev Anne Taylor leads members of RTÉ Cor na nÓg in a Christmas Children's Service.
Sunday 6th January
11.00am Mass for the Feast of Epiphany comes from the Church of the Nativity, Moynalvey.
10.30pm The Meaning of Life, with Gay Byrne.
Gay Byrne begins a new series of interviews with major public figures about the way life has shaped their beliefs and values. and vice versa.