Zig & Zag's Superbloopers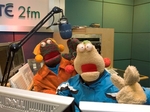 Zig & Zag are back with their partner in crime Aidan Power for a brand new series of Superbloopers!
Full of mishaps and mistakes from home, abroad and the web, as well as their very own hidden camera stunts.
It's going to be six weeks of gags, gaffs and celebrity guests, so fasten your seatbelts for Superbloopers!
Episodes
Episode One
In episode one we'll be embarrassing Brian Ormond on the Superbloopers sofa with some clips of his dodgy musical past.
Episode Two
In episode two Pauline McLynn joins us in studio to talk telly and tea cosies!
Episode Three
One of the best loved faces of Irish broadcasting, Derek Davis, joins Zig, Zag and Aidan as the boys dig up some embarrassing clips that Derek may have wished stayed buried!
Episode Four
Episode four: Colourful clothes chooser Brendan Courtney pops in to Superbloopers to give the boys a few fashion tips!
Episode Five
The ever elegant Mary Kennedy adds a touch of class to this week's Superbloopers.

Episode Six
The gorgeous Caroline Morahan drops in from LA to talk movies and marriage!