Your Bad Self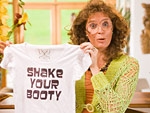 Your Bad Self, a six-part sketch comedy show about the things we think and do not say featuring some of the most recognisble faces from Irish stage and film including Amy Huberman, Micheal McElhatton, Jason O'Mara and Peter McDonald.
A deranged doctor tortures his patients. A marooned mountaineer is brought to the edge of reason by his incessantly chatty Sherpa. A showbiz mother torments her tomboy daughter. These are some of the characters who make up the Your Bad Self universe and who will develop and mutate over the course of the series.
As the title suggests, "Your Bad Self" is about the dark side -The sketches are for the most part observational, non-political and sometimes slightly surreal. It has recurring characters, but it's not about catch phrases - you're more likely to recognise the situation than the punch line.
The cast includes Amy Huberman (The Clinic), Michael McElhatton (Paths to Freedom), Jason O'Mara (Life on Mars), Peter McDonald (I Went Down), Domhnall Gleeson (Harry Potter), Justine Mitchell (A Cock and Bull Story), Hugh O'Conor (Chocolat), Andrew Bennett (Garage), Tom Farrelly (Father Ted), Karen Egan and Emily Fairman.
The series was commissioned after a successful pilot screened in December 2008.
Your Bad Self is a Treasure Entertainment (I Went Down, Man About Dog) production for RTE. Directed by John Butler (The Ballad of Kid Kanturk, George), produced by Ben Kelly. Executive Producers Rebecca O'Flanagan, Rob Walpole.
Written by John Butler, Ben Kelly, Eoin Williams, Justine Mitchell, Emily Fairman, Tom Farrelly, Domhnall Gleeson, Michael McElhatton, Peter McDonald, Karen Egan, Michael Moloney, Jason O'Mara and Hugh O'Conor.