Witnesses To War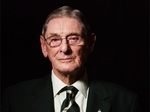 No one knows exactly how many Irish men and women served with the British armed forces during World War II, a conflict that cost millions of lives. One estimate puts the number from the Republic of Ireland at 60,000, of whom 9,000 were killed. The Irish survivors of this war are now few in number and very elderly.
For the past eighteen months, Bryan Dobson and Donal Byrne of RT have been recording a broadcast archive of some of the remaining survivors recalling their experiences of joining the British forces, their period of service during the war and their experiences afterwards. Among the interviewees are men who served with Bomber Command in the RAF; men who took part in the D-Day landings; some who experienced prisoner of war camps in Germany; one man who was part of a unit of soldiers who liberated the Bergen Belsen concentration camp; and merchant seamen who are sometimes regarded as members of the forgotten service during the war.
As part of that archive, some of these moving accounts feature in a special RTÉ documentary Witnesses to War to be broadcast on RTÉ One Television on Tuesday, November 12 at 10.35pm.
In Witnesses to War seven Irish men recall their World War II experiences; some of these men are now in their nineties but their recollections are clear and moving. Featured are Harry Callan, a native of Derry and merchant seaman taken prisoner in the South Atlantic, who was later forced to work on a submarine bunker near Bremen in horrendous conditions; Jim Redmond, a Dublin man who became a tail gunner with the RAF; Pat Gillan, a Galwegian who was a commando on D-Day; Jack Mahony from Kerry, who also fought in Normandy but ended his war in a notorious POW camp in Germany; Denis Murnane from Dublin, who was a bomb aimer with bomber command; John Crisp, a Dubliner who was a tank driver in North Africa and Italy; and Albert Sutton, an RAF man who went into Bergen Belsen and witnessed the horrific scenes there.
RTÉ One, Tuesday, 10.40pm