Whose Holiday is it Anyway?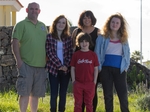 Whose Holiday is it Anyway? is a brand new show that will see Rhona and Jason McDaid hand over the power of their holiday plans and the entire holiday budget to their wilful teenage kids!
Rhona and Jason run a tight ship around the family home so when it comes to their dream holiday they love a laid back sun holiday that involves nothing more than lying by the pool soaking up the sun. Their three kids Alex (15), Molly (12) and Rory (7), on the other hand, are completely fed up with lazy and boring holidays and have a very different idea of what they should be doing on holidays!
With the entire holiday budget of 3,000 handed over to the kids they set about booking their annual family holiday, completely unsupervised! The kids decide everything from what they will be doing to what theyll be eating, they will even decide what theyll be wearing as they are in charge of packing everyones bags! Poor mam and dad, without a red cent in their pocket, wont even know where they are going until they arrive at the airport, which makes for the perfect nightmare for self-confessed control freak Rhona.
Fed up with lazy and boring holidays they have been subjected to throughout the years the kids want something different and have a few surprises up their sleeves for mum & dad.
With issues of trust, responsibility, control-freakishness and downright determination from the kids Whose Holiday Is It Anyway? will take family dynamics taken to a new level.
Watch this Whose Holiday Is It Anyway? on Sunday, the 15th December at 6.30pm on RTÉ ONE.